Published June 30, 2015
The "Up 'til Dawn" (UTD) St. Jude fundraising organization at the University of Louisiana at Monroe competed in the national Executive Board Fundraising Challenge and finished in the nation's top spot, raising over $11,000 in 30 days.
The group took to social media to boost their donations, and throughout the month, the team climbed the national rankings to ultimately come out on top, ahead of Texas Tech University, who raised $7,865.
Katee Fairchild, UTD executive director said, "ULM Up 'til Dawn started the new fundraising year by going to the first annual regional retreat with Louisiana State University and the University of Louisiana at Lafayette. While there, we gathered ideas about how to better our fundraising, get more teams registered, get creative with side events throughout the year, and we also set our yearly fundraising goal at $40,000."
The team raised 27 percent of their yearly goal during the month of June, and nearly $4,000 on June 29, alone.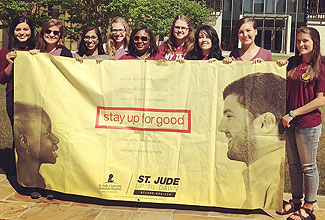 Laura Jennings, director of Student Life and Leadership and ULM's UTD adviser said, "While we were very excited to get second place last year, we made it a goal for ourselves to be first in the nation this year. We could not have achieved that without the tenacity of our dedicated executive board, none of whom would quit until we were number one. I admire them so much for their generosity and selflessness at such a young age."
The top-two schools received funding and travel for all of their board members and staff advisers to attend the annual St. Jude Collegiate Leadership Seminar in Memphis—a three-day workshop which provides students with fundraising skills and new ideas to guide them toward a successful fundraising event for St. Jude.
UTD serves as the university's fundraising group for St. Jude Children's Research Hospital for pediatric cancer treatment. The group puts on several annual events to raise money including letter sending, Trunk or Treat, a themed 5k, and much more.
"I think this is a great example of how generous the people in our lives really are," Fairchild said . "To beat out other, much larger, schools in the United States is an amazing feeling for the ULM Up 'til Dawn members."
ULM UTD board members for the 2015-2016 school year are Austin Burkes of Dehli; Katee Fairchild of Epps; Nirali Patel of Monroe; Olivia Barfield of Dry Prong; Ashley Lyons of Shreveport; Ashton Mason of Natchez, Miss.; Courneishia James of St. Martinville; April Stelly of Arnaudville; Shelbi Penny of Walker; Silvienne Sint Jago of Bonaire; Danielle Potter of Monroe; Lindsay Moore of Marshall, Texas; Caitlyn Martel of Bunkie; and Brianna Barron of Arnaudville.
For more information, or to help ULM "Up 'Til Dawn" reach its yearly goal, visit ULM Up 'til Dawn