Published July 09, 2015
For April Nelson, Miss Louisiana 2015, life has been non-stop since she was crowned Saturday, June 27, at Monroe's W.L. Jack Howard Theater. Now, beginning her preparation for Miss America, Nelson must settle in to her official home at the University of Louisiana at Monroe.
She started her stay with a complete campus tour and introduction to administrators and ULM campus life.
"The warmth and hospitality that have been shown to me while being at ULM has been immeasurable and truly wonderful," said Nelson. "I can't wait for the rest of the year!"
ULM has been the home of Miss Louisiana for the past 11 years, and her stay at the university includes a private apartment with all the bells and whistles and access to facilities.
Lacey Sanchez, Miss Louisiana 2014, said that ULM became her home away from home. Not only because of the comforts afforded, but because of the welcome she received.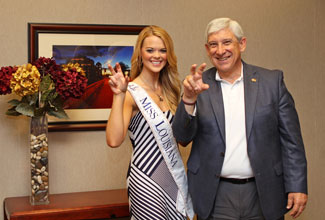 "ULM's sponsorship during my tenure as Miss Louisiana truly exceeded every expectation I ever had of what it would be to live as Miss Louisiana," said Sanchez. "As a Baton Rouge native, ULM opened their hearts to me. The faculty and students welcomed me into the ULM community. I will forever feel like a member of the Warhawk family."
ULM provides a variety of services to Miss Louisiana, including helping with preparation for the Miss America Pageant.
"My favorite part of assisting with Miss Louisiana is providing mock interviews," said Laura Jennings, director of student life and leadership at ULM. "It's nice to help them develop a skill that will later land them a job. We were very proud when Lacey won the non-finalist interview award at Miss America. We spent a lot of time with her, helping her prepare."
ULM is a proud supporter of the Miss Louisiana Organization, providing various in-kind donations to both the Miss Louisiana Pageant and the Miss Louisiana Outstanding Teen Pageant.