Published August 12, 2015
Dr. Mel Mobley, associate professor of music at the University of Louisiana of Monroe, recently returned from central Haiti, where he served on the staff of the Ecole de Musique Sainte Trinite at its 44th annual Summer Music Camp.
Mobley taught group percussion and private lessons, and also held a daily music theory tutoring session for students interested in coming to study music at the university level in the United States. The camp hosted over 300 young musicians from all over Haiti.
"It was definitely a life-altering experience," Mobley said. "The most exciting part was seeing students so eager to learn and so engaged in the music making process."
During the camp, Mobley conducted a performance by the advanced percussion ensemble at the biweekly chamber recital. He also conducted the faculty brass quintet in a performance of his own composition, "Supplication."
Holy Trinity School was established in 1956 as an institution of the Episcopal Church with a social ministry in arts and music.  The camp has been an important part of musical life in Haiti since it began in 1971.
At camp, young musicians improve their skills through engagement in private lessons, chamber ensembles, and large ensembles: bands, orchestras and choirs at intermediate and advanced levels. Admission to the camp is by audition.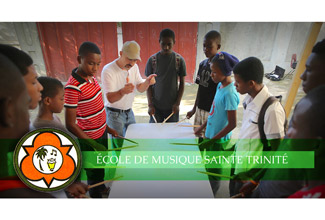 The camp is staffed by distinguished music teachers, performers, college-aged volunteers, and conductors from the U.S., Canada, South America, and Europe.
Instruction is mostly in French and Haitian Creole, but many of the Haitian faculty and older students understand English.
Though he had to return before the three-week camp finished in order to perform at a festival in Texas, Mobley hopes to be able to return and teach at the camp again next year.
Mobley holds a D.M.A. from the University of Illinois, a M.M. from the University of South Florida, and a B.A. from the University of Texas at Austin.