Published August 17, 2015
University of Louisiana at Monroe Associate Professor of communication, Dr. Bette Kauffman, has once again been invited to "Art Melt," the largest multi-media juried art exhibit in the state for Louisiana artists.
Art Melt, now in its 12th year, strives to promote professional artists throughout the state of Louisiana while providing an opportunity for the public to experience the best of local fine art, music, and performing arts.
The exhibit is located on the second floor of Capitol Park Museum at 600 North 4th St. in Baton Rouge.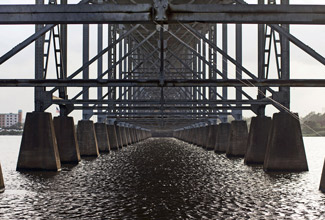 Kauffman's photograph is an architectural study of the infrastructure of a bridge titled "Lost in Inner Space." It is a framed 13-inch by 19-inch limited edition inkjet print.
The exhibition is now open to the public through Aug. 27. Admission is free.
Art Melt is sponsored by Forum 35, Inc.—an organization of young professionals working for the betterment of Baton Rouge.
Kauffman delivered her piece to Capitol Park Museum last month for the six-week-long exhibition.
Kauffman earned a Bachelor of Arts in Journalism from the University of Iowa, and a Master of Arts in Communication and Ph.D. in Communication from the University of Pennsylvania.
She has professional experience in documentary photography, videography, journalism, and public relations. Kauffman has taught at ULM for almost 20 years.