Published August 18, 2015
Representatives from the Louisiana Licensing Board for Construction Management presented a check for over $115,000 to the University of Louisiana at Monroe's School of Construction Management during a special event on the ULM campus.
Vic Weston of the Contractors Educational Trust Fund (CETF) and the Louisiana Licensing Board for Construction Management made the presentation to Dr. Ed Brayton, director of the School of Construction Management, and Dr. Ron Berry, dean of the College of Business and Social Sciences.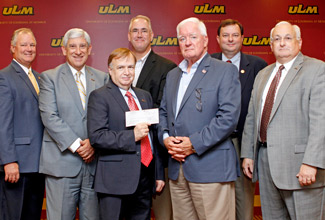 "Last year we presented a check for around $40,000," said Weston. "This year, we're going to triple it, and next year, the check will be even healthier."
The funds may be used for program upgrades, projects, supplies, and more.
"During our most recent accreditation visit, where we earned another six years of accreditation, the accreditation group highlighted the exceptional support we receive from the construction industry, and we can't thank them enough for the role they have played in this program's success," said Berry.
Funds are generated through a volunteer program where contractors have the option to supply funds for education.
In 2014, Weston said "If each contractor gives a $100 donation, we can raise over $2.1 million every year for the three schools in Louisiana with accredited programs."
Members of the Contractors Educational Trust Fund were also in attendance. They work closely with the Louisiana Licensing Board for Construction Management to ensure the expansion of services for construction education in Louisiana.
ULM President, Dr. Nick J. Bruno thanked the industry leaders for their continued support of ULM construction management students and faculty.
"The construction industry has been a leader in advocating education, and here at ULM, those funds have been quite significant as a result of their hard work and their leadership. It helps us to recruit and retain faculty, make improvements, and produce exceptional graduates," said Bruno.
Recent funds have gone to upgraded classroom technology, creating an outdoor construction practices lab, and to various endowments and building renovations.