Published September 23, 2015
Today Monroe-based Progressive Bank presented a check for $60,000 to the University of Louisiana at Monroe to establish the Progressive Bank Endowed Professorship in Financial and Information Technology Services.
George Cummings, Progressive Bank president and chief executive officer, David M. Hampton, executive vice president, chief operating officer and director of banking, and Kelly Shambro, senior vice president, director of marketing and communications made the presentation to ULM officials at a press conference in the university's Media Center.
"Progressive Bank is pleased to make this major investment in the University of Louisiana at Monroe to support the College of Business and Social Sciences in their efforts to prepare graduates with the skill sets required of major employers in our area – CenturyLink, IBM, Progressive Bank, and others – now and in the years to come," said Cummings. "We view this endowment as an investment in the university, in our local economy, and in local workforce development."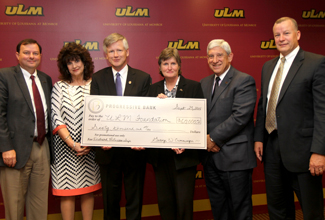 Dr. Nick J. Bruno, ULM president, said the endowment helps the university's mission of providing a highly educated workforce.
"Financial and Information Technology Services are key drivers in today's global economy. These fields are recognized as growth job areas, and this endowment will ensure that ULM students will be able to enter the workforce well-equipped to meet the demands of those fields," said Bruno. "I also applaud Progressive Bank's leaders who have the vision and understanding that higher education and business can work together to improve the standard of living for the northeast Louisiana region."
A major purpose of the Endowed Professorships program is to create stronger economic development ties between the private sector and higher education. This gift is now eligible to receive the Board of Regent's $40,000 match, creating a $100,000 Endowed Professorship.
"At Progressive Bank we are working every day to help our local economy grow through our leadership, our lending activities, our volunteer efforts, and our individual and corporate contributions.  We are constantly looking for opportunities to positively impact and improve our economy and our community.  This endowment is simply one example of these efforts," said Hampton.
Dr. Ronald Berry, dean of the College of Business and Social Sciences echoed Hampton's remarks.
"This endowed professorship will ensure that our faculty have the opportunity and tools to educate our students and shape the workforce of tomorrow," said Berry. 
The Endowed Professorships Program was established by the Louisiana Board of Regents in 1990-91 and is designed to broaden opportunities for faculty enhancement on diverse types of campuses.