October 1, 2015
University of Louisiana at Monroe senior, Lauren Norton, was crowned ULM's 2015 Homecoming Queen during a pep rally on Monday, Sept. 27, as part of ULM's Homecoming week festivities.
Norton is a senior risk management and insurance major from Shreveport. Her parents are Ramah and David Norton.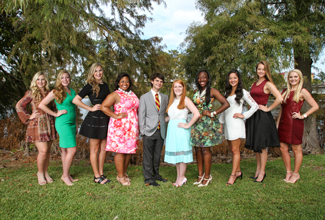 Cheers from the students who filled Malone Stadium met the highly anticipated announcement. Nick J. Bruno, university president, crowned Norton.
Norton shared what the crown means to her, "I've been involved on campus since I was a freshman, and this university has changed me and brought me out of my shell. To be able to represent this amazing university and its student body is something I will never forget."
This year's Homecoming King is Bryson Belaire, a senior pre-pharmacy major from Basile.
Homecoming court members are freshmen Shelby Carrier of Lafayette and Anna Claire Brown of West Monroe; sophomores Sarah Green of Calhoun and Alyssa Garner of Frierson; juniors Olivia Remsberg of West Monroe and Elaine Blanco of Leesville; and seniors Chelsea Wyatt of Monroe and Monohn Prud'homme of Monroe.
ULM congratulates Norton and all of the students elected to the 2015 Homecoming Court.