October 2, 2015
The University of Louisiana at Monroe Alumni Association will present its annual awards: the Golden Arrow Award; the George T. Walker Lifetime Achievement Award; Rising Young Alumnus Award; and the ULM Service Award during a brunch held at ULM Oct. 3 during Homecoming Week.
Golden Arrow Award winners: T.J. and Wanda Shuflin
Respected and longtime supporters of the university, the Shuflins helped to establish the Alumni Chapter in Pineville, La. and maintain lifetime membership status.  
They've both fulfilled one of the main prerequisites for this award by exhibiting outstanding personal and professional achievements. T. J. Shuflin is a crime lab retiree who now enjoys his photography business, and Wanda Shuflin is a retired pharmacist.
T. J. Shuflin said, "For us as ULM Alumni, it is significant and meaningful to support ULM in ways that not only enrich the school, but enrich our own lives, and those around us. Being part of the ULM Alumni family has meant so much with respect to life-long friends, cherished memories, and pride in seeing ULM grow."
Wanda Shuflin believes the Alumni Association offers a way to stay connected to the university.  "Without the Alumni Association, school would be just memories, and the connection to the university would be weak or lost completely."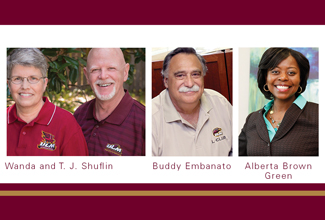 George T. Walker Lifetime Achievement Award: Buddy Embanato
The George T. Walker Lifetime AchievementAward recognizes those who have many personal achievements and who significantly contribute to the university. 
Embanato is one of the most recognizable ULM alumni, as he has maintained his tailgating spot in the Grove for decades. Embanato is employed in insurance sales, and has been a season ticket holder since 1979.
Embanato prides himself on the way he has transitioned with ULM from his days as the university's first Indian mascot in 1958. He said in 2014: "This is my school. We have to support it in every possible way: athletically, academically — anyway we can support it."
Rising Young Alumnus: Alberta Brown Green
This award is given to an alumnus who exemplifies school spirit, appreciates the value of education, and makes time to engage with their alumni community.
Green fulfills all of the qualifications. She currently serves as the North Louisiana Economic Partnership (NLEP) Director of Information Technology Initiatives, and has a rich history with ULM. She earned a bachelor's and master's degree – both from ULM. She previously served as the Director of ULM's Career Connections and as a career counselor. Brown is very involved in the community, serving on numerous boards, including the Board of Directors of University Health Conway.
Brown shared, "I would like to see the university prosper by continued growth in student numbers, alumni financial contributions, and see an increase in top-notch faculty and staff. I believe our university has the ability to remain a staple in the community and a choice university for national and international students for years to come."
Alumni Chapter of the Year: Northwest Alumni Chapter
Led by Shreveport native, Andy Snelling, this chapter represents Bienville, Bossier, Caddo, Claiborne, DeSoto, Red River, and Webster parishes in Louisiana.
All of the award recipients will be recognized during the Homecoming Football Game, Oct. 3, in Malone Stadium at 6 p.m.