Published October 7, 2015
AT&T announced a $25,000 contribution to the University of Louisiana at Monroe Foundation to contribute to the Top Hawks fund. The fund provides scholarship dollars to students who have achieved academic excellence during high school.
David J. Aubrey, Louisiana State Director for External Affairs at AT&T, made the presentation to ULM officials. "It is vital that we prepare tomorrow's workforce today and ensure they have the tools and education needed to guarantee that our country and state are better prepared to meet global competition," said Aubrey. "It's estimated that within the next year, Louisiana will have more than two million non-farm employees for the first time in its history. Supporting ULM students through scholarships goes a long way toward preparing our future workforce."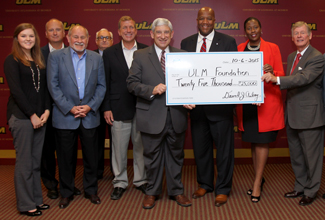 Dr. Nick J. Bruno, ULM President, said this contribution would help sustain an initiative that was implemented several years ago. "The Top Hawks program allows us to recruit the best and the brightest to ULM. There are a limited number of students eligible for this award given the criteria that has been outlined, however, this award has allowed us to triple the number of 30+ ACT students at the university. Once these students arrive on campus they completely embrace the educational experience that we offer. There is no doubt that these students are our future leaders."
Dr. Bruno also expressed appreciation for the Northeast Louisiana delegation that support ULM's drive for excellence. 
"Supporting and rewarding these top performing students is of utmost importance if we are going to continue to move forward as a global leader in innovation," said State Senator Francis Thompson. "These students are our future, and we must continue to invest in their education and development if we want to continue to see growth in both our region and across our state."
State Representative Katrina Jackson said, "Both ULM and AT&T recognize the importance of providing Louisiana's best and brightest students with financial support for higher education degrees. Every time we invest in students, we invest in the realization that those graduates will continue to live and work in Louisiana and help build our economy as well as our communities."
Top Hawk students have the option of applying the scholarship towards study abroad opportunities.
Abigail Fertal, a Top Hawk recipient and a speech language pathology senior, spoke about her experience of studying abroad. "There is no greater learning experience than to see things first-hand and have the opportunity to be exposed to other cultures. I cherish the experiences I had in London and Paris, and I know this scholarship helped make these experiences possible."