The University of Louisiana Monroe's Up 'til Dawn organization will host its annual "Trunk-or-Treat" event in ULM's Brown Stadium parking lot, located on Warhawk Way next to Malone Stadium, from 5-7:30 p.m., on Friday, Oct. 30.
This event is attended by hundreds of children, and Up 'til Dawn team members distribute candy and treats to visitors. The event is free and open to the public.
"Trunk- or-Treat is one of our most attended events of the year. It is a safe trick-or-treat event for the kids of the area. It's a great time for all involved," said Ashton Mason, assistant director of ULM's Up 'til Dawn.
Students and Up 'til Dawn teams can register for Trunk-or-Treat on the 2nd floor of the Student Center until 5 p.m. on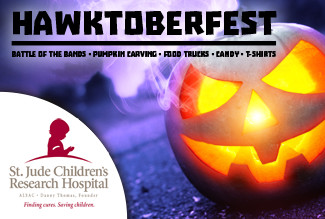 Tuesday, Oct. 27.
ULM's Up 'til Dawn will also host its very first Hawktoberfest event in the Grove, located behind Malone Stadium, from 11 a.m.-5 p.m., on Saturday, Nov. 7. 
The carnival-style event is open to the public, and includes, food, beer trucks, games with prizes, pumpkin carving and face painting. The main event at Hawktoberfest is the Battle of the Bands.
"We encourage families to bring their children to participate in all of the fun activities and fall atmosphere we have to offer," said Katee Fairchild, director of ULM's Up 'til Dawn.
All proceeds raised at Hawktoberfest benefit St. Jude Children's Research Hospital. 
ULM's Up 'til Dawn organization is dedicated to raise awareness and funds for St. Jude Children's Research Hospital. The organization takes pride in helping St. Jude researchers discover cures for children's cancer and other catastrophic diseases. 
"I personally love St. Jude because they are so accepting of all beliefs, races, and cultures. Their groundbreaking research helps children all over the world," said Olivia Barfield, ULM Up 'til Dawn's sponsorship chair.
For one night next semester, Up 'til Dawn student members at ULM will give up sleep in honor of all the children at St. Jude and the countless sleepless nights they have. Team members who have raised $100 for the year are invited to participate in a night of sleepless fun, games, and celebration of the hard work and fundraising for the year.