Published October 26, 2015
Dr. Jeffrey Anderson, associate professor of history in ULM's School of Humanities, has published a book entitled, "The Voodoo Encyclopedia: Magic, Ritual, and Religion."
The Voodoo Encyclopedia takes a well-rounded approach, utilizing various aspects of magic, ritual, and religion in both Haitian Vodou and closely related Louisiana Voodoo practices.
"Dr. Anderson's voodoo research has resulted in a work that will no doubt find readers among both popular and academic audiences," said Dr. Frances Gregory, associate director in the School of Humanities.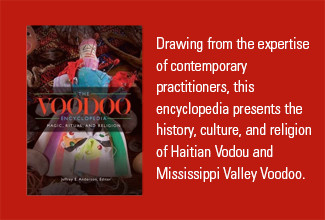 In addition to its 150 article entries, the encyclopedia includes photographs, primary sources, and informative sidebars covering facts such as the difference between Vodou and Voodoo. Vodou and Voodoo share similar deities and ceremonies but remain recognizably distinct. "The practices came to Haiti and Louisiana during roughly the same time, from the early 1700s to about 1810," Dr. Anderson says. "They have similarities, but they are not the same."
Though Haitian Vodou and Louisiana Voodoo have their origin in West Africa, they incorporated early on various aspects of Catholicism as a result of their encounters with the New World. Such syncretism is clearly seen in the appropriation of Christian language and figures. Yet, the Hatian and Louisiana traditions often incorporate that language in different ways.
For example, Anderson explains that in Haitian Vodou, the snake god Danbala Wedo is thought to be the equivalent of Saint Patrick, who, according to a popular Catholic legend, banished all snakes from Ireland. Followers of Louisiana Voodoo also worship a snake god named Blanc Dani, but this god, unlike the snake god in Hatian Vodou, is considered to be the equivalent of Saint Michael the Archangel.
Dr. Ruth Smith, director of the School of Humanities, is very proud of this accomplishment. "Dr. Anderson is a very thorough scholar who combines historical research in the library with field experiences in other countries and the U.S. in order to present a broader perspective," Dr. Smith said.
The encyclopedia includes entries by Anderson, other scholars who are specialists in the field, and practitioners of Vodou. The encyclopedia can be purchased online at amazon.com.
For more information, contact Dr. Anderson at jeanderson@ulm.edu.