Published November 11, 2015
Ashleigh Aldridge, an alumna from ULM's College of Business and Social Sciences, founded her own company just a week after graduating from ULM in 2013. Two years later, her products have made Oprah's 2015 "Favorite Things" list.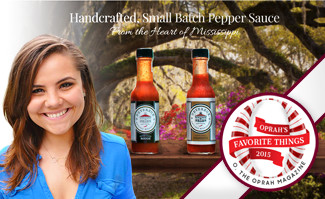 It didn't take Aldridge very long to figure out what she wanted to do after college. With a $10,000 startup and a recipe for hot sauce from her father, also a ULM alumnus, Aldridge opened D'Evereux Foods, a food company based out of Natchez, MS whose products have become a "hot" seller.
Her first product was Pepper Sauce Rouge, described on the company's website as "a bold, ground pepper sauce that has all the heat one expects from traditional hot sauce with the addition of a special blend of spices."
The product was a hit. Small production runs increased to slightly larger ones. Her inventory quickly depleted as new orders came in. Aldridge was pressed to begin creating new hot sauce products to meet the demand. And so she did.
But Aldridge had bigger plans for her product line. "The company's first products were hot sauces, but I did not want D'Evereux Foods to be known strictly as a hot sauce company," says Aldridge. "I wanted to show that we were expanding our product line, so I came out with the jams."
Aldridge released three different jams: Strawberry Jalapeno, Sweet Pepper, and Huckleberry. These sweet and spicy flavored jams are 100% all natural, and gluten, grain, nut, and soy free. 
The jams were an instant hit. Aldridge had created new products that put her food company on the map. But little did she know, the entire nation would soon be watching.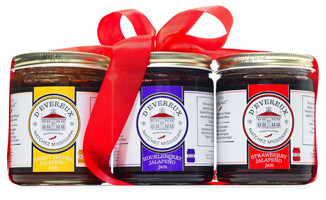 Her jams garnered national attention when they were officially selected for Oprah's 2015 "Favorite Things" list.
Aldridge attended a trade show in Atlanta in July 2015 where she learned about the prospect of submitting samples for Oprah's "Favorite Things" list. She submitted immediately after the trade show and then heard back in August that she was in the running. In September, she was informed that she was a finalist. And in October, she was told she made the list.
"I kind of sat back when I got the call—I felt like I won the lottery," says Aldridge. "This was a marketing dream, an overnight resume builder." 
Her resume was apparently one that the entire nation was reading. According to Aldridge, "Being on Oprah's "Favorite Things" list forced D'Evereux Foods to grow up as a company." And grow up it did. Almost immediately, the company's production increased by 1,600 percent.  
Aldridge contributes much of her success to her ULM education. "I don't know anyone else who was prepared to run a business right out of college like I was, other than the people I graduated with. I feel like my ULM education afforded me with every opportunity that I have had in my business," claims Aldridge.
Aldridge does everything in-house, from labels and website content, to the writing of legal contracts. All of her products must get federal clearance through the FDA, and while most would find the entire process daunting, Aldridge claims that she was prepared for it. "ULM's business law course was influential in helping me understand the legal aspects of running a business," says Aldridge. "Right out of college I had the tools necessary for understanding and complying with FDA laws and regulations, writing my own contracts with buyers and sellers, preparing lease agreements, and so on."
Dr. Henry Cole, Professor and Chair of Marketing in the College of Business Administration, says he is not surprised by Aldridge's success. "Ashleigh was a very bright student, with a lot of drive and business acumen," according to Dr. Cole. "Her story affirms that what we are doing here in the College of Business is on target to set students up for success."
D'Evereux Foods has a retail store, online store, and supplies 150 stores in 22 states and two countries. To learn more about their products, visit devereuxfoods.com.