Published November 16, 2015
On Friday, November 20, the Atmospheric Science Department is hosting a seminar given by Mr. Ryan Wade, lecturer at the University of Alabama in Huntsville (UAH).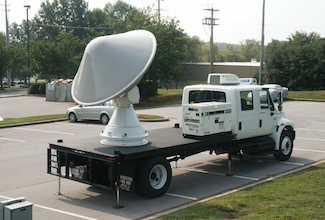 Wade's seminar is titled "UAH Research Field Operations in Extreme Conditions Over the Past 10 Years: Land-falling Hurricanes, Tornado Outbreaks, MCSs, and Blizzards." Additionally, Wade will transport UAH's mobile Doppler radar truck—the Mobile Alabama X-band (MAX) polarimetric Doppler radar—to ULM for a hands-on truck event for students and anyone else in the community who might be interested. There are only a handful of such instruments in the world, and this is the first time a "Doppler on Wheels" has visited ULM. 
ULM will soon have its very own Doppler weather radar as a result of a $3 million grant through the Louisiana Governor's Office of Homeland Security and Emergency Preparedness (GOSHEP). It is scheduled to be completed in early 2016. 
Following the seminar, Dr. Todd Murphy, assistant professor of Atmospheric Science at ULM, will participate in a small pilot project with students to scope out potential MAX sites in northeast Louisiana. The goal will be to find locations within minimal trees and structures that might interfere with radar scanning. This will be done in an effort to pair MAX with the ULM Doppler radar for various meteorological research projects. 
The seminar will be held in Stubbs Hall 100 at 11:00 a.m. on Friday, November 20. It is free and open to the public. The MAX radar truck will be stationed in the Warhawks Circle. For more information, please contact Dr. Todd Murphy at murphy@ulm.edu.