Published November 16, 2015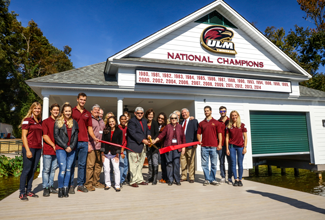 On Saturday, November 14th, the university held a ribbon-cutting ceremony to celebrate the opening of the new water ski facility.
Construction on the facility, which was paid for by the Student Facilities Auxiliary Fund and the Student Activity Fee, began in April 2015. It has opened its doors just seven months later. 
The team previously operated out of a small dock area next to the new facility, which was damaged by severe weather in October 2014—just a day before the team went to nationals.
The new facility features a boathouse that includes a lift for the competition waterski boat, a large deck with a floating dock, a bathroom/changing area, and a nice storage area for all skiing equipment.
Treina Landrum, who served as the water ski coach and advisor for the last ten years, says the facility is a long awaited and much appreciated addition to ULM. "The new facility is going to be enjoyed by all our present skiers and those still to come," says Landrum. "We are grateful to the ULM students and administration for their tremendous support and commitment to the ULM water ski team." 
Dr. Tom Murphy, former dean for student affairs, was honored at the ceremony. Murphy, known as the "Bear Bryant" of intercollegiate water ski competition, was the first advisor of the water ski team and was influential in institutionalizing the program, finding funding, and building local support. Dr. Murphy's family, along with Dr. Dell Vines, former ULM president, and Charles ("Charlie Mac") McDonald, former dean for student affairs were presented with appreciation gifts.   
As of 2015, the ULM water ski team has won the Collegiate Water Ski National Championship 26 years of the title's 37 years in existence.