Published November 20, 2015
Dr. Jocelyn Chapman, assistant professor in ULM's Creative Systemic Studies online doctoral program, and doctoral candidates Andre Lewis and Karen McClendon presented at the Eighth International Conference on e-Learning and Innovative Pedagogies, at the University of California, Santa Cruz, November 2-3, 2015.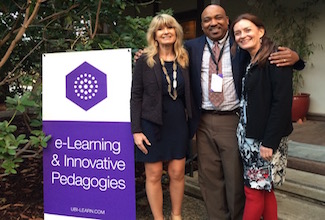 Their presentation, "Creative Systemic Studies: A Pioneering Online Doctoral Program for Transformative Change in the 21st Century," was grounded in their experiences of the original program which was designed to foster transformative change through active participation in online conversation where the subject matter itself was systemic change and transformation.
Presentation highlights included discussion on how systemic thought and cybernetics served as both catalyst and metaphors for thinking differently and how constructivist pedagogy is supported by the recognition that conversation is the locus of cognitive change. Accordingly, frequent participation by students and faculty was the norm.
Lewis testified to how the program transformed his personal relationships, his view of his career and life, and his approach to research. Ultimately, the program prompted him to modify the course of his research because of the sense of purpose he gained in the program. Their discussion on the purpose of higher education was well-received and generated further discussion with audience members afterwards.