Published December 1, 2015
Most students attend college to gain the knowledge and skills required for a full-time career. And while it is not that common for students to be offered full-time jobs before they graduate with a degree, that is just what has happened to Rachel Ratcliff, a sophomore pre-medical laboratory science student from Crowville, LA.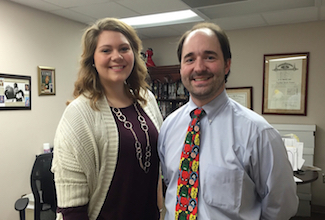 Franklin Medical Center, a general medical and surgical hospital located in Winnsboro, LA, has offered Ratcliff a full-time job as a medical laboratory scientist once she completes her education, training, and certification. The Center is also providing Ratcliff with financial assistance to cover three years of her medical laboratory science (MLS) education at ULM.
"This scholarship initiative is one of the ways ULM's MLS program is partnering with the community," said Dr. Melanie Chapman, assistant professor in the MLS department. "The MLS program is producing graduates to fill critical needs in rural hospitals while healthcare organizations are financially contributing to keep the program viable. The scholarship supports the ULM MLS program and a student. At the same time the hospital is able to recruit a well prepared graduate who will be ready to work in a highly specialized field immediately following graduation."
In today's economic climate, many students are choosing to pursue their careers right out of high school, bypassing higher education altogether. These students see the potential time and money invested as too big of a risk. But ULM students like Ratcliff are continuing to see positive returns on their investment in higher education.
"Being able to work in a small, local hospital gives me the opportunity to learn and grow in my field with women whom I know and who will guide me in becoming the best medical laboratory technologist I can be," said Ratcliff.
Ratcliff, who was recently diagnosed with Type 1 diabetes, says her greatest desire is to raise awareness about diabetes within her community. "I want to help the diabetic community learn the importance of routine blood testing and maintaining a healthy lifestyle. This requires accurate and efficient laboratory testing, and because of my MLS education at ULM, I feel very confident that I can offer that."
To learn more about the MLS department at ULM, please visit ulm.edu/mls.