Published December 12, 2015
Nearly 650 students from the University of Louisiana at Monroe's fall 2015 graduating class earned degrees on Saturday, Dec. 12, in ULM's Fant-Ewing Coliseum. The momentous occasion is one that many see as the beginning of adulthood.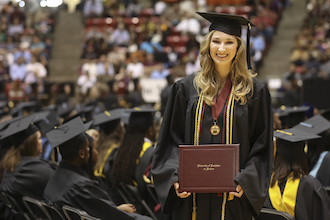 Degrees were conferred to 200 summer graduates, and 447 fall graduates. 
Brigadier General Joanne F. Sheridan served as the ceremony's keynote speaker. A ULM alumna, Sheridan focused her speech around equality and leadership. 
Sheridan recounted how difficult it was to be a woman in the military in the 1980s. "I joined the Army just a few years after women were integrated into the military and were no longer part of a separate women's service corps…There were a lot of people who believed that women did not belong in the military; that we couldn't do the job because we weren't as strong as men."
Sheridan indicated that she spent her first few years in the military trying to prove everyone wrong. "I tried to fit in by being 'one of the boys' but eventually I learned that, as a woman, you can never really be 'one of the boys.' It took a while for me to realize that the very thing I was trying so hard to get everyone to ignore, my gender, was the one thing that really set me apart."
Sheridan told the graduating class that everyone has the potential to lead. "Your generation of leaders will know that everyone, regardless of gender or race, has the potential to lead. And a leader's most important job is to create an environment where people can meet their full potential. Leadership is not about what you do but what you inspire others to do."
In a final message to the graduates, Sheridan offered some personal advice. "Learn who you are and what you are good at. Work hard, harder than everyone else around you. Be responsible. Be respectful. Be indispensable. Read books. And for goodness sakes, be careful what you post on Facebook and Instagram and Twitter – thankfully they didn't have that when I was starting out. Don't feel like the next step is the most important one you will take. It's not. You will fail at some things but it's the lessons you learn from those failures that will lead you down the path to success. The most important thing is to never quit, never give up – if you do these things, you will be successful." 
In line with Sheridan's sentiment on the importance of hard work, ULM President Dr. Nick J. Bruno gave special recognition to students who have interesting or inspiring graduation stories. Bruno highlighted two of those students on Saturday.
"Since I have been president, I have tried to identify graduates among you who have unique and interesting stories to tell about their journeys at ULM," Bruno said. "I'd like to introduce you to two of them today."
Amanda Tull graduated with a Master's degree in Occupational Therapy. While at ULM, she worked a full-time job with the Northeast Louisiana Assistive Technology Center, took 12 graduate hours per semester, and maintained a 4.0 GPA. Amanda has three children, two of which are currently enrolled at ULM.
Po On Joseph Wong graduated with a Masters in Business Administration as part of the ULM-Hong Kong Shue Yan University joint MBA program. This partnership has been on-going for the past 36 years, but out of those 36 years, Wong is the first participant in the joint program to travel to Monroe to be physically part of a commencement ceremony. Bruno indicated in his recognition of Wong that he had travelled extensively all over the world and that he was "proud that Mr. Wong can now add Monroe, Louisiana to his travels."
Several honor graduates were also recognized during the ceremony. They are designated as summa cum laude (3.900–4.000), magna cum laude (3.750–3.899) and cum laude (3.500–3.749).
For the complete list of summer and fall 2015 graduates, click here. 
For photos from the ceremony, click here. 
---
More about Brigadier General Joanne F. Sheridan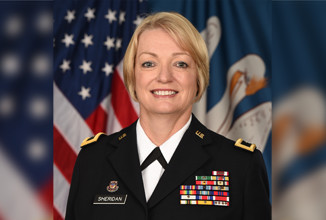 Brigadier General Joanne F. Sheridan, Assistant Adjutant General for the Louisiana National Guard, graduated from ULM with a Bachelor of Arts Degree in Sociology in 1983. 
After earning her degree from ULM in 1983, General Sheridan began her military career on active duty from February 1984 through September 1988. She was assigned to various personnel and administrative positions during her three-year tour. Following that assignment, General Sheridan served as the Assistant Operations Officer in the 5th U.S. Army Recruiting Battalion in Jackson, Mississippi.
In October 1988, General Sheridan was appointed to the Louisiana Army National Guard where she has held many distinguished positions of leadership, including Headquarters Detachment Commander, Deputy Director of Military Personnel, Deputy Director of Information Management, and Deputy Chief of Staff.
She was deployed in Support of Operation Iraqi Freedom in 2008 where she served as the Director of the Project Management Office on the Task Force to Improve Business and Stability Operations in Iraq.