Published December 4, 2015
On Thursday, Dec. 3, ULM alumnus Richard L. Rogers donated $25,000 to the Liew Family International Student Center in honor of his late wife, Carol Parker Rogers (1943–2014). The Women's Area Room 1 has been named the "Carol Parker Rogers Room."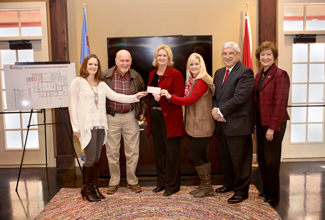 The check presentation ceremony took place in the John W. Wong and J.W. Wong Knowledge Enrichment Foundation Social Center. Anne Lockhart, ULM senior development officer, Sami Owens, director of international student programs, and ULM president Nick Bruno all expressed their appreciation to the Rogers family for their financial contribution. Eric Liew, after whom the center is named, also shared words of appreciation.
Rogers' three daughters, who are all ULM alumnae, were also present: Kimberly Ferraro (ULM, 1990), Krystal Bearden (ULM, 1998), and Kelly Quarles (ULM, 2000). 
"This university has added so much joy to my life," Rogers stated in a speech prior to the check presentation. "I met my wife here, and I always told her that I wanted to give back to the university, to show my appreciation to the very place that changed my life."
The Rogers' donation will go toward the International Student Recruitment and Enhancement Fund, which is in place to provide supplemental funding as needed to support recruitment and enhancement initiatives for the international students of ULM.
The center opened its doors in April 2015 thanks to a $1 million donation from the Liew family. 

"I wanted the international students to come here and have a place; a one stop shop. I know we can do better at encouraging international students to come to ULM," Liew said. "This center was built to help them as they transition to life in a new country. The Rogers family is building on that vision through their investment."
The center houses students until they are placed into campus housing or find an apartment. It is also a place for students to socialize. The center includes a large kitchen, meeting and study rooms, short-term lodging, laundry facilities, and socializing space.
"This center reflects the university's commitment to diversity and the sharing of cultural experiences," Bruno stated. "This is a place for us to develop friendships and to learn more about the world in the process. The Rogers family understands the importance of this mission and their contribution means a lot to me and to this university."
Over 300 international students are currently enrolled at ULM from over 50 countries. To learn more about the Office of International Student Programs and Services, please visit ulm.edu/international/international-office.