Published December 7, 2015
20 student athletes from ULM participated in the Big Whit 77 Foundation's "Wish List" project this past Thursday, which surprised 10 families in northeast Louisiana with dinner and games at Chuck E. Cheese followed by a Christmas shopping spree at Toys "R" Us. The foundation chose five families from Ouachita Parish and five families from Lincoln Parish.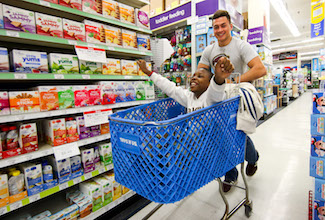 The athletes were chosen through the Student-Athlete Advisory Committee (SAAC), a group comprised of athletes from various sports who serve as the voice for student-athlete issues on and off the field. 
"The Big Whit foundation is a great organization and we hope to keep the partnership going," redshirt senior infielder and president of SAAC Josh Faciane said. This is Faciane's second straight year volunteering for the event.
SAAC provides a forum for student-athletes to present specific concerns and participate in the formulation of policies within the department; promotes efficient communication between student-athletes and the athletic administration; encourages more involvement of the student-athlete in campus and community projects; helps build a sense of community within the athletic department and all athletic teams; and contributes and builds the Student-Athlete Life Skills Program.
Whit's Warriors is a scholarship program for Ouachita and Lincoln parish high school students which helps assist and provide mentorship for high school seniors who are seeking financial assistance in getting a higher education and how to be leaders in their classrooms and communities.
"It warmed my heart seeing the smiles on those kids' faces," said Will Daniels, a member of the 2014 Whit's Warriors. "It really makes me thankful for all that I was blessed with."
The event was facilitated by The Big Whit 77 Foundation and founded and sponsored by Kirby-Orten-Guillot-Breaux and Associates from Merrill Lynch. 
To learn more about the Big Whit 77 Foundation, visit bigwhit77.com.
ULM representatives by sport:
Baseball/Softball

Will Daniels
Josh Faciane
Faith Bohack
Cheyanne Lyon 
Men's Golf/Women's Golf

Hogan Arey
Lesley Atkins
RaeChelle Leiken
Beach Volleyball/Volleyball

Claire Crossfield
Delaney Driver
Hope Pawlik
Hadley Swartz 
Men's Track and Field/Cross Country

Brice Chaney
LeBrun Nelson
Lane Perilloux
Andre Phillips
Jamel Sams
Women's Track and Field/Cross Country
Tyionna Beauregard
Alexis Gordon
Rychlend Martin-Home
Brianna Reid