Published December 8, 2015
President Nick J. Bruno, officials in the English department, and the Summer Reader Committee at the University of Louisiana at Monroe honored the winners of the Freshman Essay Contest during a special ceremony at the ULM Library.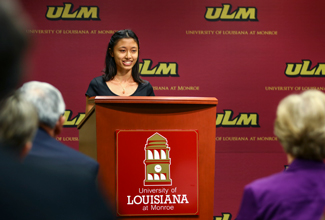 The essay contest is held in conjunction with ULM's Summer Reading Program, which is designed to introduce first-year students to intellectual exchange at ULM. The essays were based on selections from National Public Radio's (NPR) "This I Believe."
"The contest itself is significant in that it highlights the narrative stories of students that take ENGL 1001 by celebrating engaging writing and unique stories," said Vanelis Rivera, English Instructor in the School of Humanities.
These distinguished students read their winning essays and captivated the audience with their poise and powerful messages. 
Amoi Lyons won first place and $250 for her essay titled "The Scales"—a narrative about understanding race relations through a conversation the student had with her white creative writing teacher. Lyons' instructor is Ms. Meredith Mckinnie.
Sisam Shrestha was awarded the second place and $150 with "MY Green; THEIR Green," Shrestha's personal account of having to defend turning vegetarian to her friends and family. Her instructor is Ms. Vanelis Rivera.
Jarryd Nemeth-Gutierrez won third place and $100 with her essay, "Colored." His piece proved to be an emotional account on how a student found the best gift for a young boy with color blindness. Ms. Lesli Rambin is Nemeth-Gutierrez's instructor.
This I Believe is an international organization engaging people in writing and sharing essays describing the core values that guide their daily lives. Over 100,000 of these essays, written by people from all walks of life, are archived on the NPR website, heard on public radio, chronicled through NPR's books, and featured in weekly podcasts. 
The project is based on the popular 1950s radio series of the same name hosted by Edward R. Murrow.
For more information on This I Believe, visit thisibelieve.org. 
For more information on ULM's Summer Reading Program, visit ulm.edu/summerreading.