Published November 12, 2015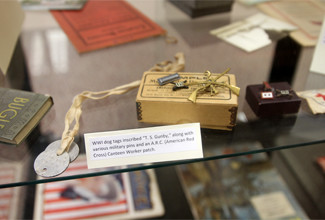 Andrew Augustus Gunby (1849–1917) was born in Georgia but came to Louisiana at the age of 10.
Gunby taught school in Bastrop and Farmerville while pursuing a career in law. After passing his bar exam, he settled in Monroe, where he served as a prominent lawyer. He also served as Judge on the Louisiana Appeals Court from 1884 to 1892.
Gunby considered family, serving others, and education as the foundations for his life. He believed education would make society a better place for all people. He sent daughters to school in the late 1800's and early 1900's, which was unusual for the time. Gunby instilled these personal tenets into the lives of his children—they are Gunby's legacy.
ULM's Special Collections and Archives is hosting the "Gunby's Legacy Exhibit," which contains various items from the Gunby collection including pictures, maps, personal family items, personal papers, letters, speeches, quotes, and other unique items. There are also short biographies of his children and information about the history of the Gunby family in Monroe. Gunby led a very active life serving the community of Monroe and state of Louisiana. He is considered the founder of the Louisiana Chautauqua. Gunby Hall, now the Student Success Center, was named after him.
The exhibit is located in the ULM Special Collections and Archives, on the 5th floor of the university library. It is free and open to the public. For more information, please contact Cyndy Robertson, Coordinator of Special Collections, at (318) 342-1054.