Published December 14, 2015
After spending the last 10 seasons at the helm of the McNeese State football program, Matt Viator has been named head coach at ULM. Viator, whose contract is pending approval by the Louisiana System Board of Supervisors, will be the program's 16th head coach.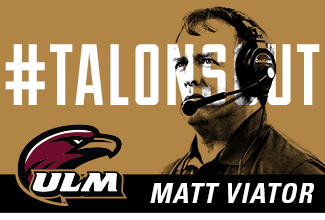 During his 10 seasons at the helm of the McNeese State football program, he posted a 78-33 record (.703 winning percentage) and is tied for the program lead in all-time wins. Over the course of his 10 seasons, Viator averaged just under eight wins per season and never had a losing season. He also coached three different teams to 10-win seasons.
In 2015, Viator led the Cowboys to a 10-0 regular season record and an appearance in the second round of the FCS Playoffs against Sam Houston State. Viator, who led the Cowboys to a perfect 9-0 record in Southland Conference play, was named the league's coach of the year. He also was a finalist for both the Eddie Robinson National Coach of the Year award as well as the STATS FCS National Coach of the Year award.
The Cowboys' 10-0 regular season marked the fifth time in McNeese State history that the team finished with a perfect record during the regular season. It was also the 12th time that the team posted double-digit wins in a season; the fifth such accomplishment since the year 2000.
A total of 13 McNeese State players were named All-Southland Conference following the conclusion of the 2015 regular season. During his tenure in Lake Charles, Viator had a total of 97 players earn All-Southland accolades including 53 named First Team All-Southland.
The three-time Southland Conference Coach of the Year coached three SLC Players of the Year, two SLC Offensive Players of the Year, two SLC Defensive Players of the Year, one SLC Offensive Lineman of the Year, one SLC Newcomer of the Year, and two SLC Freshmen of the Year. Viator also had a total of 28 student-athletes earn All-Academic honors from the Southland Conference and five earn Academic All-America accolades. 
What others are saying:
Tom Herman, head football coach, University of Houston: "Matt Viator is one of the truly fine coaches in our profession. While in the Southland Conference, I knew that every time we had to play one of Coach Viator's teams, they were going to be physical, disciplined and extremely well coached."
Les Miles, head football coach, LSU: "I have great respect for coach Viator and the job he did at McNeese State. He's an outstanding coach who always had his teams ready to play and play well in all three phases of the game. I wish him well at ULM. He will do a great job there."
Mike Suggs, head football coach, C.E. Byrd High School: "I have known Viator for a long time and I think the world of him. He is a consistent winner. He runs a great program and runs it with class. ULM has hired the right guy for the job." 
J.T. Curtis, head football coach, John Curtis Christian High School: "Viator led McNeese State's program to national prominence and he will do the same at ULM. I have every reason to believe that ULM will be a major factor in the Sun Belt Conference!"
Dwain Jenkins, head football coach, St. James High School: "Coach Viator is one of the good guys in the profession. He never forgot his roots in Louisiana high school football. He always goes the extra mile to develop relationships with high school coaches."
Louis Cook, Notre Dame High School: "This is a great hire for ULM, as Viator is one of the most respected college football coaches in the state. He has a proven wining record and I look forward to watching his success continue at ULM."
Scott Bairnsfather, head football coach, Shaw High School: "Viator has taken care of my former players that went on to play for him. He runs a first class program. I would feel confident and proud to send any of my players to ULM."
Jonathan Foster, head football coach, Kentwood High School: "This is a very exciting hire! I know Viator will continue his tradition of winning at ULM."
Brian Moreau, member of search committee: "ULM has found a coach in Coach Viator that has won at every place he has coached. Coach Viator is the perfect guy for Warhawk Nation to rally around."
During the 2014 season, McNeese State nearly pulled off a monumental upset in the season opener at No. 19 Nebraska, but the Cowboys fell just short as Cornhusker Ameer Abdullah scored on a 58-yard touchdown reception with 20 seconds to play in a 31-24 Nebraska win. The 70-plus thousand in attendance gave a standing ovation to the visiting team. 
The 2013 season saw the Cowboys post its second 10-win regular season under Viator at the time, eighth in school history, when they finished 10-3, including a 6-1 record in the conference. And for the second consecutive year, McNeese State defeated a FBS opponent when it clobbered South Florida 53-21. It was the first-ever win for McNeese State over a BCS conference opponent. That win set a NCAA record as well as the 53 points scored by the Cowboys were the most-ever scored by a FCS team over a BCS team while the 32-point margin of victory was also an NCAA record.
He took over head coaching duties four games into the 2006 season and led the team to a 7-5 record as they captured the Southland Conference title and appeared in the FCS playoffs. Prior to assuming head coaching duties, he served as an assistant coach from 1999-2006. He served as the team's linebacker coach in 1999 before assuming offensive coordinator duties in 2000.
His teams have been ranked in the top 25 national polls in six of the last eight seasons and climbed to as high as No. 4 for a couple weeks late in 2013.
The Cowboys have ranked among the national leaders in offense for nine of the past 14 years and the university has also produced the Southland Conference's top offensive performer four of the last nine seasons.
His offenses have led the league in scoring five times and in 2013, set school records for total points scored in a season (520) and ended the regular season ranked No. 4 in the nation (1st in the Southland Conference) with a 42.5 points scored per game average. The Cowboys also set a school record by scoring 50 or more points in five games on the season.
Viator began his coaching career in the high school ranks as an assistant coach at Sam Houston High School from 1986-88. His first head coaching position came in 1989 as he was named head coach at Vinton High School.
During his two seasons, he posted a 13-9 record before moving to Jennings High School in 1991. During his four seasons at Jennings, he finished with a 38-12 record and was named the 1992 Louisiana Coach of the year. He followed that up with a 30-16 record in four seasons at Sulphur High School (1995-98). And before joining the college ranks, he earned his second Louisiana Coach of the Year honor in 1998. 
During his high school coaching career he finished with an 81-37 record, winning one state title and five league titles.
Viator is married to his wife Schantel, and he is the son of the late Nolan Viator, a former Cowboy coach and player who is a member of the McNeese State Hall of Fame.
For updates on the football team, be sure to follow the team on Facebook, Instagram and Twitter.