October 12, 2015
When you're a service organization and have been around for 35 years, it shows two things: you're dedicated and you have value. That holds true for U.S. Small Business Development Center (SBDC) as the organization celebrated 35 years of service at its national conference in San Francisco Sept. 8-11.
The Louisiana Small Business Development Center (LSBDC) housed on the University of Louisiana at Monroe campus was on hand for the 35-year celebration and was honored by Maria Contreras-Sweet, the administrator of the U.S. Small Business Administration.
Michael Ricks, district director for U.S. Small Business Administration (SBA) in Louisiana, is proud to be partnered with the LSBDC.
"It provides an invaluable service across the state, from start-up business to existing business, helping with access to capital," Ricks said. "The LSBDC is certainly responsible for the success and growth of the small business community in Louisiana."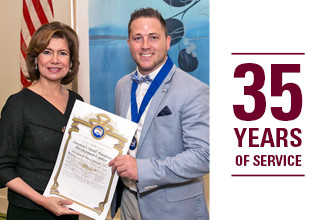 Contreras-Sweet presented the LSBDC with a medal and a certificate for its service. LSBDC Financial Manager Justin Downs received the awards.
"Being a part of the national network is truly an honor for us here in Louisiana," Downs said. "Our state network has been here 32 of the 35 years and it shows a true commitment to the community, entrepreneurs, and small business growth."
Downs said small business advocates such as Contreras-Sweet truly help the SBDC continue to thrive and bring impact to the local economies. 
"The SBA plays a huge part in what we do at the SBDC," Downs said. "We all try and echo its efforts here locally as we grow our communities one business at a time and one job at a time."
The LSBDC state office is based at the University of Louisiana at Monroe and ULM's support has been instrumental in the success of the network.
"The LSBDC is a strong asset to our university and it's wonderful to learn of their recognition by the U.S. Small Business Administration," ULM President Dr. Nick Bruno said. "As the host university for the Louisiana SBDC network, we're proud to be a part of the work they do. They are a true value to the community and we certainly appreciate and recognize that as well."
The 35-year story of how America's SBDC Network is quite unique. It grew from a small pilot program to a nationwide business education and training infrastructure with nearly 1,000 centers throughout the nation, providing management and technical assistance to over a million Americans annually.
It chronicles the commitment of key federal lawmakers, training professionals, college and university officials, state and local policymakers, private and public sector partners, dedicated SBDC personnel, an active trade association and, most of all, the millions of small business men and women who have come to America's SBDCs seeking to improve their lives through America's free enterprise system.
America's SBDC network is a partnership that includes the U.S. Congress, SBA, the private sector, and the colleges, universities and state governments that manage SBDCs across the nation. SBDCs provide management and technical assistance to an estimated one million small business owners and aspiring entrepreneurs each year. Small business owners and aspiring entrepreneurs can go to their local SBDCs for free face-to-face business consulting and at-cost training on writing business plans, accessing capital, marketing, regulatory compliance, international trade and more.
For more information about the Louisiana Small Business Development Center visit lsbdc.org