October 19, 2015
The University of Louisiana at Monroe's School of Visual and Performing Arts (VAPA) presents The Pirates of Penzance Thursday, Oct. 29, and Friday, Oct. 30, at 7:30 p.m. in Brown Auditorium, located on the ULM campus.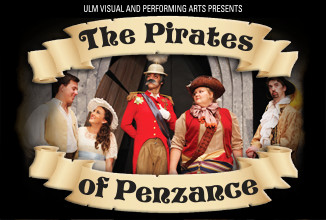 This classic show, written by W.S. Gilbert and Arthur Sullivan, is a silly and sensational musical-theatre favorite about swashbuckling pirates in Victorian England. First performed in New York City on New Year's Eve 1879, The Pirates of Penzance is still enjoyed by audiences worldwide. 
After a version of The Pirates of Penzance reached Broadway audiences in 1980, it was made into a first-run Hollywood film. 
Performing principal roles will be Sierra Ethridge, singing Mabel, with Blake Oden as Frederick. The Pirate King is Nathanael Medlin. The Major-General is performed by Gray Hall, and the loyal nurse Ruth is portrayed by Elizabeth Neuberger.  
The orchestra is conducted by associate professor of music Dr. Jason Rinehart, and the production is directed by professor of opera Dr. Mark R. Clark. Costumes are by Margaret M. Hall, with sets executed by Steve Burnside.
General admission is $15, and ULM faculty and staff tickets are $5. ULM students are admitted free with a valid student ID. Tickets are available at the VAPA office, located in Biedenharn Hall 105.
For more information, call the VAPA Box Office at 318-342-1414.