Published November 4, 2016
MONROE, La. — The University of Louisiana Monroe School of Pharmacy is the recipient of a $600,000 estate gift from Mildred Maurer, the school announced at a press conference Friday.
Monroe resident Mildred Maurer passed away in 2014 at the age of 97. She was a former elementary school teacher and Regional Director of the northeast Louisiana Restaurant Association.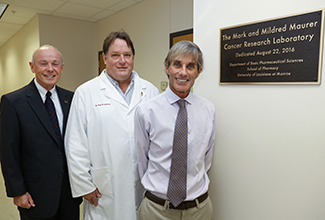 In her will, Maurer divided her estate among several entities, including the ULM School of Pharmacy. The funds will go toward the establishment of the Mark and Mildred Maurer Cancer Research Enhancement Fund, the Mark and Mildred Maurer Lecture Series, and the Mark and Mildred Cancer Research Lab.
Maurer was a breast cancer survivor and had developed a keen interest in the breast cancer research of Dr. Paul Sylvester, the B. J. Robison/Pfizer Endowed Professor of Pharmacology at ULM, whom she met 10 years ago at an event hosted at the School of Pharmacy.
"Mildred became such a very dear and close friend of mine. I took her out to lunch several times, and I was always amazed at how many people she knew. She would always introduce me to new people. She truly was a remarkable woman," said Sylvester.
When Sylvester learned that Maurer left portions of her estate to him for his research efforts, he was surprised.
"The donation was such a great surprise. I knew she was going to donate to the School of Pharmacy, but I didn't know she was going to donate it to my research. When I learned about her wishes, I wanted to make this about her and not about me. I wanted to make something more permanent out of this to honor her and her husband's legacy, so we established a lecture series, lab, and research fund all in honor of Mark and Mildred Maurer," Sylvester said. 
Dr. Wilson Campbell, Mildred Maurer's neighbor, former ULM professor and department head for Kinesiology, was named the trustee of the Mildred Summers Maurer Testamentary Trust. This trust was created solely for the purpose of supporting the ULM School of Pharmacy. 
"She loved the Monroe community and in particular she loved ULM. I think I can say with confidence that, within the last few years of her life, one of the most exciting times for her was coming onto the ULM campus and attending many of the functions here that the university puts on…She wanted to give a gift that would keep on giving long after she was gone and I think that she has done that so well in her gift here to ULM," said Campbell.
Dr. Benny Blaylock, Dean of the ULM School of Pharmacy, also expressed his appreciation for the generosity of the Maurer estate, noting that it is donations like this that keep higher education moving forward.  
"This estate gift facilitates the high quality cancer research being conducted by Dr. Sylvester in the School of Pharmacy. Gifts such as this provide monetary support for talented researchers, graduate students, equipment and supplies necessary to perform research at a level that results in breakthroughs in new and/or improved cancer treatments. The ULM School of Pharmacy is very grateful for this most generous gift," said Blaylock.  
In addition to her gift to ULM, Maurer also donated nearly $200,000 to the Shriners and $200,000 to St. Jude Children's Research Hospital. 
Sylvester's current research analyzes Vitamin E compounds and their potential for preventing and/or reducing the risk of breast cancer in women.
To learn more about Sylvester's cancer research, visit https://www.ulm.edu/pharmacy/bps/sylvester.html.