Published April 6, 2016
MONROE, La. — For most students, spring break is a time to relax from the stresses and strains of academic life. For a group of pharmacy students at the University of Louisiana Monroe, however, it was a time of service.
Eight pharmacy students, along with three faculty members, journeyed to the impoverished region of Guaymitas, Honduras over spring break as part of an organized effort to provide critical healthcare to members of the community.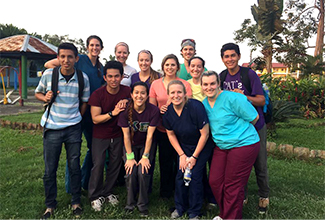 ULM partnered with Southeastern Medical International (SMI), an American organization that provides medical care to communities following a disaster. In 2010, the organization provided clinics and medical relief in Haiti following the catastrophic earthquake that killed more than 160,000 people and left close to 1.5 million people without homes.
One of the missions of the SMI is to train the next generation of health care professionals to be involved in this kind of work. They take physicians and volunteers from all across the southeast "to the neediest places on Earth."
The eight students who participated are part of an elective course, now in its sixth year, within the pharmacy program titled "Medical Outreach Experience," which culminates in a medical outreach trip to some impoverished region of the world. 
In Guaymitas, the pharmacy students helped conduct interviews, take medical histories, and recommend therapy. They also offered recommendations to prescribing physicians based on the diseases being treated and the medications that were available. The team provided primary care to people with infections, chronic diseases like cardiovascular disease, hypertension, diabetes, and musculoskeletal problems. 
According to pharmacy student Rino Nicholas, "Some of the people we saw had extreme cases, from cancer in an older gentleman that was at a late stage, to a baby who was experiencing fainting spells because of a possible major heart congenital birth defect." 
For an entire week the students and faculty worked outdoors in extreme heat, conducting home visits and furnishing makeshift clinics in various communities that lacked basic resources such as clean water and sanitation.
But harsh conditions did not deter students from doing what they set out to do.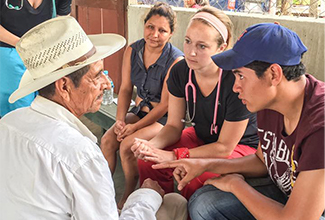 The ULM pharmacy team estimates that 200-300 patients were served and about 400-500 prescriptions were filled. The students were able to see just the kind of impact they had on the community, but the impact of the people of Guaymitas on the students was also clearly felt.
"This trip has been the most valuable and life changing experience that I will probably ever have," said Halie Verret. "It's very hard to put all of the emotions into words. It opened my eyes to how bad some people's living situations are. So many people told us that their doctors told them nothing was wrong when in reality these patients had very serious problems and we most likely saved their lives."
Another student, Heather Thuy, stated: "We gained more knowledge and developed new skill sets over the course of the week, but even more than that, we grew as a family and made connections with each patient we met which deeply touched each of us and created a special bond with humanity that I know will keep us whole for the remainder of our careers."
Dr. David Caldwell, Associate Professor of Pharmacy, indicated that this is just one example of the kind of outreach ULM pharmacy students are involved in.
"This outreach trip reflects the hearts of our students," said Caldwell. "They gave up their spring break to work a 40-hour week and to provide care to an underserved area. In addition to the professional training we provide, we also want to instill a passion for humanity in the lives of our students here at ULM."