Published July 25, 2016
MONROE, La. — The 59th Annual Meeting of the Louisiana Society of Radiologic Technologists (LSRT) was held July 7-9 in Baton Rouge, La., at which faculty members and students of the University of Louisiana Monroe's Radiologic Technology program participated in a number of events.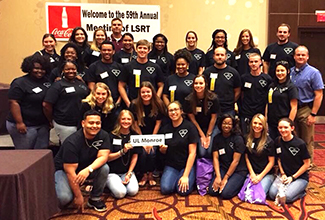 Faculty members in attendance included Lacy Davis, Jason Smith, Dr. Andy Allen, and Program Director Brett Bennett. Dr. Allen and Mr. Bennett were also recognized at the Presidential Banquet for their past service as LSRT President, and current positions as Marketing and Advertisement Taskforce Chair and LSRT Executive Secretary of Finance, respectively.
The ULM Radiologic Technology Quiz Bowl team placed second in the state competition, and were recognized and presented with certificates and plaques at the Presidential Banquet. Members of the team included Bryan Briggs, Darashai Brock, Ikia Celestine, Randy DeArmond, Kaitlyn Masters, and Olivia Parrott, with faculty member Dr. Allen serving as the team coach. Special thanks go to students Brett H. Bennett, Ashley Hawkins, Danesha McFarland, and Ashleigh Mundwiller for their assistance in the quiz bowl preparations.  
Students received certificates for their participation in the Scientific Essay and Scientific Exhibit competitions. Students participating in the Scientific Essay competition included Brett H. Bennett, Bryan Briggs, Ikia Celestine, Rebecca Jenkins, and Kaitlyn Masters.
Students participating in the Scientific Exhibit competition included Sarah Barbier, Christina Benavides, Brett H. Bennett, Bryan Briggs, Darashai Brock, Ikia Celestine, Ashley Clark, Sarah Counts, Amber Davis, Randy DeArmond, Tasha Dinet, Edward Dorsey, Ashley Hawkins, Rebecca Jenkins, Kacey LaFleur, Virginia Massey, Kaitlyn Masters, Danesha McFarland, Ashleigh Mundwiller, Shelby Nicholson, Oliva Parrott, Leah Poole, Che'Derica Samuel, Kaleb Stepp, and Eric Washington. 
Randy DeArmond led the student council meeting as Chair of the LSRT Student Advisory Council, with assistance from Shelby Nicholson, Vice Chair of the LSRT Student Advisory Council. DeArmond and Nicholson were elected at the previous LSRT Mid-Winter Meeting in February 2016 and will continue their positions until 2017. 
For more information about the Radiologic Technology program, visit ulm.edu/radtech.