Published April 10, 2017
During April, the University of Louisiana Monroe will host four events to raise public awareness and provide education on preventing sexual violence. April is Sexual Assault Awareness Month.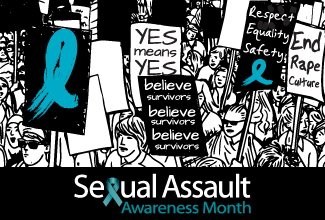 The events are presented by the WellSpring and several campus groups, including ULM Counseling Center, Femhawks, Title IX Task Force and Alpha Kappa Alpha Inc. Items for care packages for victims and survivors of sexual assault will be collected throughout the month. For lists of items needed, visit the Office of Recruitment, Sandel Hall 104 or Title IX Coordinator Office, Library 612.
The events are:
Monday: Sexual Assault Awareness Seminar at 5:30 p.m. in Nursing Auditorium.
Tuesday: Visit the Quad with the Title IX Task Force, the Wellspring, and the Alpha Kappa Alpha Inc. 11 a.m.-1 p.m.
Tuesday: Walk a Mile in Her Shoes event starts at 4 p.m. in the Quad with registration beginning at 3:30 p.m.
April 26: Denim Day – Wear jeans to show solidarity with victims and survivors of sexual assault. The events are free and open to the public. For more information, contact Jaleesa Harris at jharris@ulm.edu or Melanie Clark at mclark@wellspringalliance.org.