Published July 28, 2017
By Mark Henderson
Special to University of Louisiana Monroe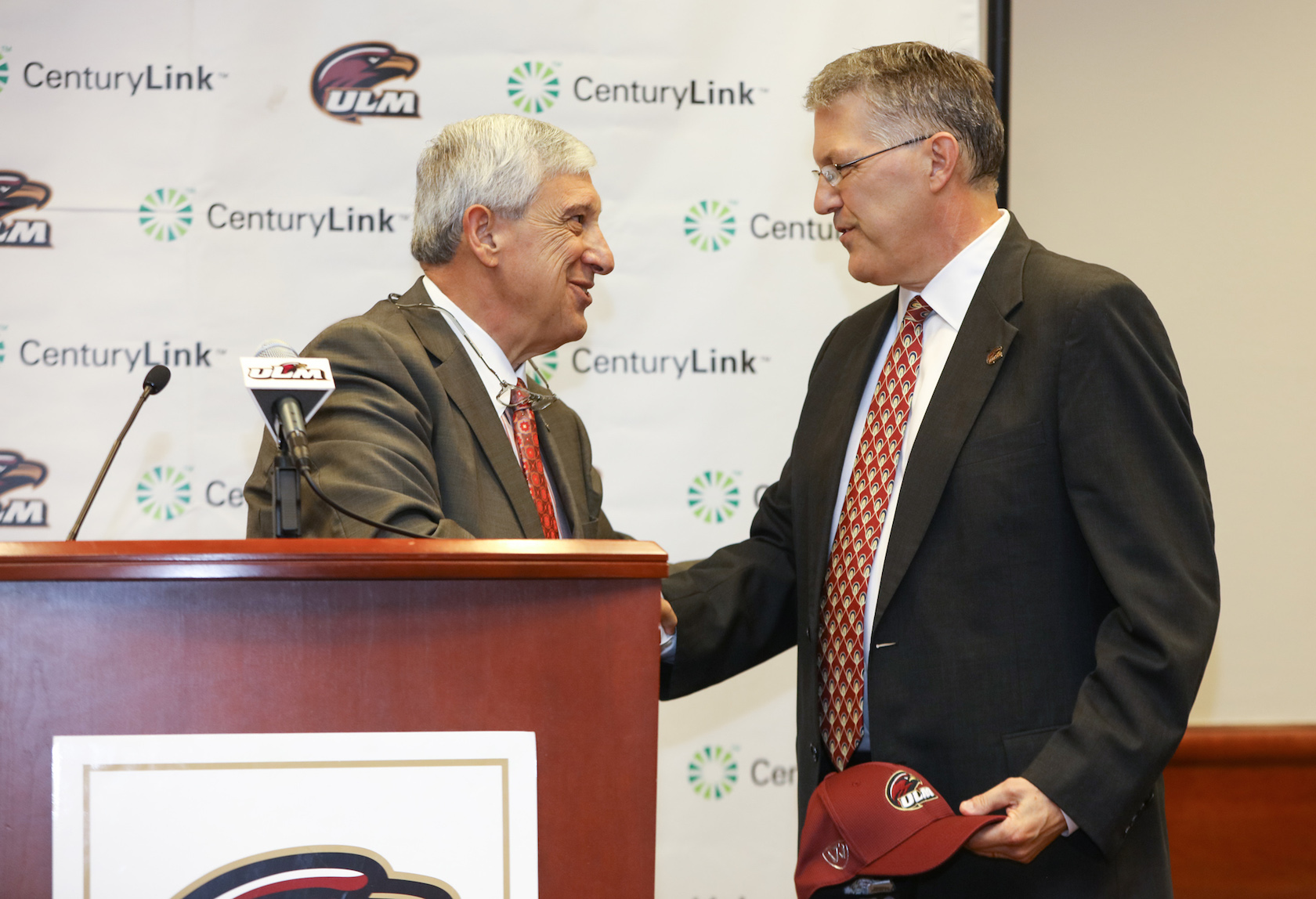 The University of Louisiana Monroe's new athletic director told supporters Thursday he intends to lead the program to success on the field, but not at the cost of giving up principles.
The University of Louisiana Monroe's new athletic director told supporters Thursday he intends to lead the program to success on the field, but not at the cost of giving up principles.
Nick Floyd was introduced as the new AD at a news conference attended by reporters, ULM community supporters and members of the faculty and staff.
ULM President Dr. Nick J. Bruno introduced Floyd to the crowd at the conference center at the university's library.
"We want to win. That's important. That's why they keep score," Floyd said. "We will position ourselves to be competitive in all sports in the Sun Belt Conference."
But Floyd said he refuses to win at all costs. He explained he will build the ULM athletic program based on a four-plank policy emphasizing principles:
ULM will operate at the highest degree of integrity. "We will never give up principles for a victory," Floyd said. 
An emphasis will be placed on student athlete welfare, he said. "We will provide our student athletes with the best experience they can have – and they will graduate." 
Everyone associated with the program will represent ULM in a positive way, Floyd said. 
The program will be fiscally responsible. Floyd promised to be very aggressive in pursuing money to support the program, but committed to managing those funds responsibly. 
Floyd told supporters in the room they are vital to the success of ULM athletics. "We need you to be a part of us. We can't do this all by ourselves."
Bruno said the hiring of Floyd was the next step in the continuing effort to build the athletic program. "We can say we have a lot of work to do, and we do," he said, but pointed out some recent highlights, including the hiring of a new baseball coach, the softball team's winning of 30 games for the first time, the women's tennis team winning the Sun Belt tournament and improvements in basketball. He also said he hoped improvements being made in the track facilities will be ready in the fall.
"It's a quiet movement that's gaining momentum," Bruno said, and believes Floyd will quicken the pace. He said all who know Floyd point to four characteristics that will help ULM – he's a man of integrity who works hard, is committed to success and has demonstrated an ability to build networks within a community.

Floyd's background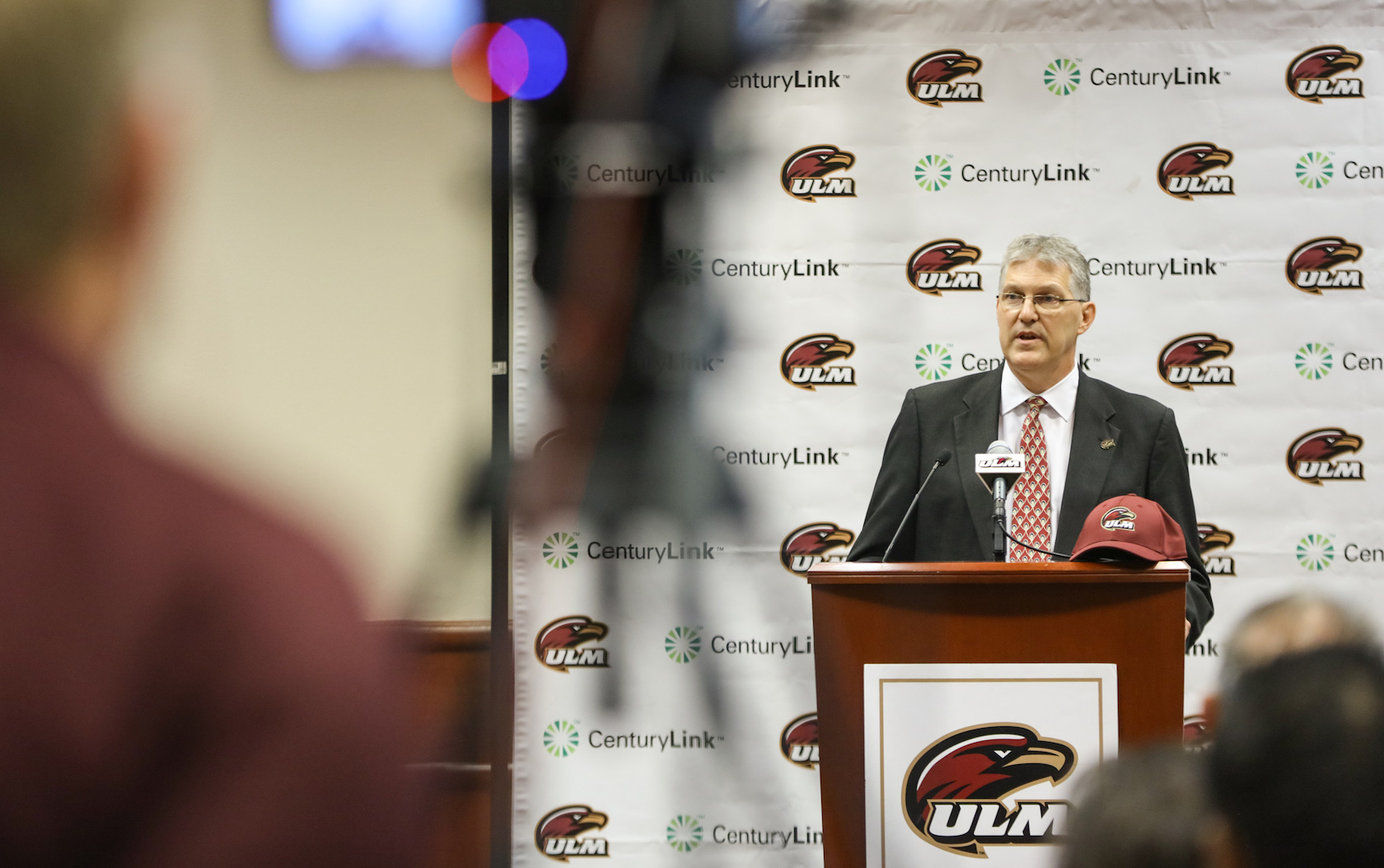 Floyd came to ULM after serving since 2001 in athletics administration at East Carolina University in Greenville, N.C. In 2004 he was named executive associate director of athletics.
At ECU, Floyd's responsibilities included financial and operational oversight of a $40 million per year athletics program. With his leadership, there were record-setting donations, ticket sales and attendance.
During his career at ECU, Floyd served as senior associate director of athletics (2001-03) and interim director of athletics (2003-04).
Floyd is familiar with the region, having spent 12 years at the University of Southern Mississippi in Hattiesburg. His athletic management roles at USM included assistant athletic director (1986-88), associate athletic director (1988-94) and senior associate athletic director (1994-98).
Prior to joining ECU, Floyd served as Conference USA Associate Commissioner (1998-2001) in Chicago, Ill.
Floyd's passion for college sports and education is part of his upbringing. His father was a football coach and administrator and for 12 years the athletic director at Indiana University in Bloomington, Ind. His mother was a lifelong high school educator.
At the news conference, Floyd paid tribute to his parents and mentors. The chance to be an AD is one of the reasons Floyd chose to come to ULM. But there is more. It puts him closer to his daughter, who lives in Mississippi. Floyd introduced his wife, Elizabeth, and his daughter, Suzanne.
Floyd also said the community won him over.
"There's a deep caring and love for this institution in this community," he said.
For a full video of the press conference, please see the Facebook Live Video.