Published August 1, 2017
Members of the University of Louisiana Monroe's Pi Kappa Alpha fraternity extended its record of consecutive wins of the fraternity's coveted Robert A. "Smythe" award by winning their 19th consecutive at the Pi Kappa Alpha Leadership Academy held in Memphis, Tenn.
The award is given to the top 10 percent of Pi Kappa Alpha chapters each year. This win marks the 24th Smythe award in the last 26 years for the ULM chapter.
The award is based upon excelling in 16 areas of operation, including academics, community service, campus involvement, athletics, management, health and safety, new member education, and alumni relations.
"The ULM chapter of Pi Kappa Alpha earning their 19th consecutive Smythe award is nothing short of awesome" said Laura Jennings, Director of Student Life and Leadership. "Our Pike chapter holds such high standards for themselves and are constantly looking for ways to improve even more. This attitude greatly contributes to their continued success. Our chapter is turning 'the gold standard' into 'the diamond standard.' We look forward to more amazing things from them."
Eight ULM students joined Tommy Walpole—Executive Director of Auxiliary Enterprises and the fraternity's university relations adviser—at the three-day event.
Those students included Bryce Bordelon, Josh Usie, Cody Crnkovic, Gauge Stringer, Chris Hudgens, Gavin Williams, Benjamin Dewil and Jacob Hill.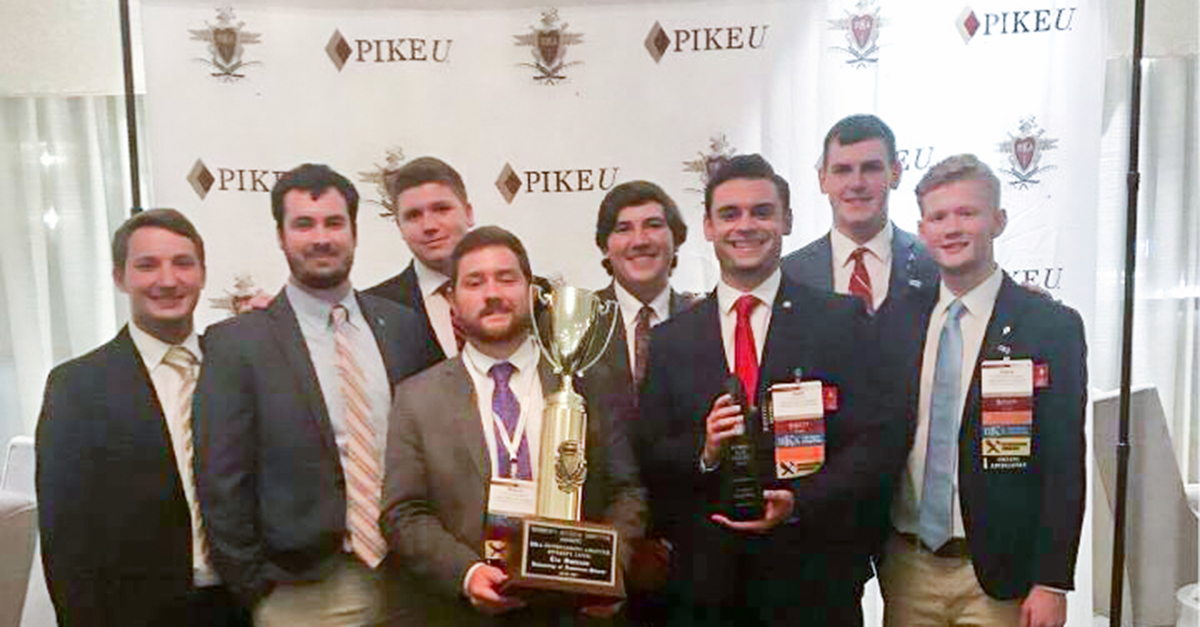 During the convention the group was recognized for earning — for the seventh consecutive year — an overall grade point average higher than a 3.0.
Other highlights of the trip included the ULM chapter receiving the Raymond L. Orians Award for Chapter Excellence, which honors overall chapter performance from the previous year. This marked the chapter's 32nd consecutive Orians award.
The group was also recognized for 100 percent participation in the undergraduate donor club, which is sponsored by Pi Kappa Alpha's Educational Foundation.
Also recognized was the fraternity's commitment to attending Pike's Leadership conferences known as Pike U, recruitment where the group was recognized twice, the ULM Pikes won one of the major financial management awards, along with receiving recognition in the areas of alumni relations.  All of these programming areas were recognized as some of Pike's best. 
The ULM Pi Kappa Alpha Alumni Association was also named as a William R. Nester Outstanding Alumni Association. This was the group's 18th time to be recognized as one of the organization's best alumni associations in North America. 
The fraternity is also known for its award-winning streak on campus.