Published October 17, 2017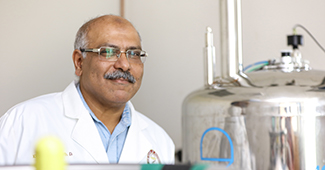 A press conference will be held Wednesday to announce an agreement between the University of Louisiana Monroe and a Shreveport company to license an olive oil-based nutraceutical developed by a professor in the School of Pharmacy. The press conference at 2 p.m. in the Media Room on the 6th floor of the ULM library.
ULM has entered into an agreement with Segue Science Management as the result of research and development by Khalid El Sayed, Ph.D. of the School of Pharmacy.
Since 2009, El Sayed has worked to develop an olive oil-based food supplement to help prevent cancer and Alzheimer's disease. His work is so promising that patents have already been filed.
Earlier this year, Segue agreed to partner with ULM and El Sayed by providing $22,500 in funding over three years. Segue is owned by Dr. James Cardelli, a retired 30-year LSU Health Science Center-Shreveport faculty member.
John Sutherlin, executive director of the Office of Sponsored Programs and Research, said this partnership is the beginning of many lucrative endeavors to come based on the research being conducted at ULM. 
"ULM has excellent creative faculty. The potential for additional agreements is tremendous. We think this is the first of many new patents and companies," Sutherlin said.  
"Segue Therapeutics considers this a project that can potentially be commercialized and have a very good outcome," El Sayed said. "This collaboration is very important because it allows us to secure more funds." 
Due to the Segue partnership, a $225,000 award came from the Louisiana Board of Regents Industry Ties Research Subprogram. It began July 1 and covers three years.
"This award is a great accomplishment and it will help us develop, test and promote our olive oil-based product, especially because we filed a patent on novel isolation and therapeutic application methods," El Sayed said.
A nutraceutical is defined by Webster's as a foodstuff (such as a fortified food or dietary supplement) that provides health benefits in addition to its basic nutritional value.