Office of Marketing and Communications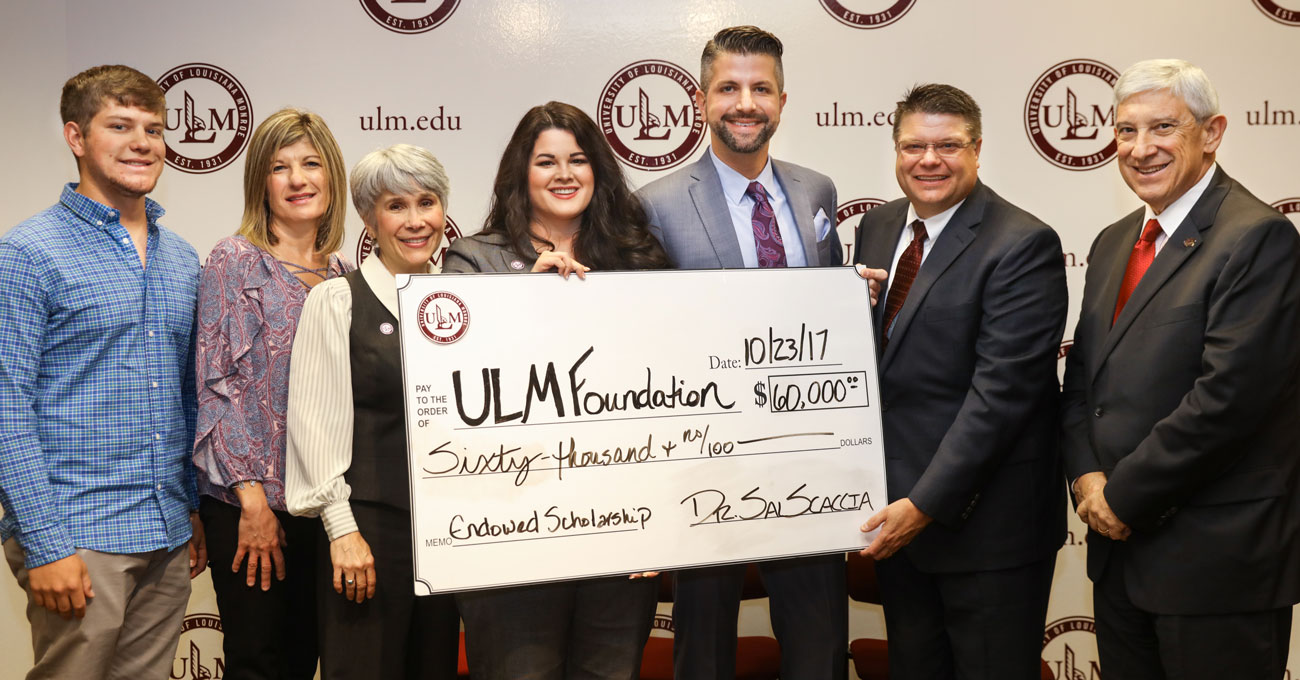 The University of Louisiana Monroe's College of Health and Pharmaceutical Sciences continues with great achievements. 
 
Just recently, on Oct. 18, the college held a press conference announcing an agreement between ULM and a Shreveport company to license an olive oil-based nutraceutical developed by a ULM pharmacy professor. 
 
Monday, the same college held a check presentation to recognize an alumnus' $60,000 contribution toward a superior graduate scholarship that will support Doctor of Pharmacy students. 
 
The contribution was made by Dr. Salvador "Sal" Scaccia who received his Pharm.D. from ULM in 2002, which was the first Doctor of Pharmacy graduating class at ULM. 
 
Scaccia said the scholarship is very important to him as a way to give back to his alma mater for the gratitude and the successes he has made in his pharmacy career.
 
"I want to be able to give other students the same or even better opportunities for success," said Scaccia. "Giving back and doing our part to better the world is an important concept that we should focus on and try to make happen every day."
 
The Louisiana State Board of Regents offers matching opportunities for specific university endowments, including superior graduate scholarships. Scaccia's gift will be submitted in the form of a proposal to the Louisiana State BOR to receive a competitive match of $40,000 to create a $100,000 endowed superior graduate scholarship that will create funds in perpetuity. The scholarship will be named the TLC-Dr. Salvador Scaccia Endowed Superior Scholarship for Doctor of Pharmacy at the University of Louisiana Monroe.
 
Dr. Glenn Anderson, Dean of the College of Health and Pharmaceutical Sciences, expressed his gratitude to Scaccia adding that education takes commitment, including time, the energy to go through challenging courses and the finances that students' families have to come up with to support their children through their college years. 
 
"These kinds of gifts that go through perpetuity where you're able to help those students reduce that debt-load not only helps them, but helps the community that we serve and the communities our alumni serve," said Anderson. 
 
Scaccia said his time at ULM prepared him for the real world, adding that he left ULM as a more experienced, educated and confident young man ready to conquer the world. 
 
"The friendships and bonds that I made at ULM are lifelong," said Scaccia. "Education was top-notch. The educators were challenging, yet caring, and the family atmosphere in the College of Pharmacy was an experience that was unique and fulfilling."
 
ULM President Nick J. Bruno said he is happy to see Dr. Scaccia returning some of his success to the university where his career began. 
 
"Hopefully, his gift will serve to our other alumni as a challenge for them to come forward and to also help their university and their College of Pharmacy to excel in ways that we have not seen before," said Bruno.
 
About Dr. Scaccia:
 
After graduation from the University of Louisiana Monroe, Dr. Salvador Scaccia started as the head retail pharmacist in an independent community pharmacy before beginning his tenure in specialty pharmacy in 2005. In 2008, Scaccia opened Total Life Care Rx Pharmacy, today known as Kroger Specialty Pharmacy. Here, he serves as Senior Vice President and oversees more than 450 employees across Louisiana, Texas, and California.
 
He is currently on the Board of Directors of the New Orleans Pharmacy Museum, and he has also served as president of the Greater New Orleans Pharmacy Association for 10 years.  
 
In November 2010, Scaccia was honored by Gambit Magazine of New Orleans as one of the top 40 people under the age of 40 for his accomplishments and contributions that he has made to New Orleans in the area of business.  He was also recognized by the Young Leadership Council (YLC) of New Orleans in July 2017 as a Role Model for his being an extraordinary example for the young professionals of New Orleans and the community at large in his respective profession.
Published October 25, 2017