Published January 25, 2017
MONROE, La. — A group of University of Louisiana Monroe "Top Hawks" publicly thanked AT&T for scholarships at a press conference on ULM's campus Tuesday.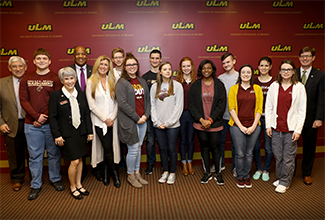 In late 2015, AT&T announced a $25,000 contribution to the ULM Foundation to contribute to the Top Hawks Fund for Fall 2016/Spring 2017. The fund provides scholarship dollars to students who have achieved academic excellence during high school and continue to maintain high performance during college. 
The scholarship recipients, who have all now been named, gathered to express their appreciation to the Fortune 500 telecommunications company.
Kylen Smith, a senior Speech Language and Pathology major from Center, Texas, spoke about how the ULM scholarship has allowed her to focus on her academics without the financial burden. 
"Ever since I've been here I've just been so blessed with this opportunity because instead of like actually wondering, 'How am I going to pay for this experience?,' I get to focus on the things that matter," Smith said. "The scholarship has allowed me to study abroad, to travel—something I've always wanted to do but I've just wondered, 'How am I going to do this? Is this possible for someone like me?'"
Connor Dixon, a senior computer science major from Angola, La., also expressed his appreciation to the company for their generosity.
"What [the scholarship] meant to me was peace of mind," said Dixon. "I don't have to work, I don't have to take on two, three jobs trying to make ends meet trying to pay for college because the scholarship has helped me so much instead. I can instead put 100% of myself into this university."
Dixon also indicated he has a job lined up for after graduation, thanks to an internship through ULM.
Susan Chappell, Executive Director of the ULM Foundation and Alumni Relations, thanked the students for choosing ULM as well as AT&T for making it possible to further the ULM Foundation's mission of providing support for students and the university.
ULM President Dr. Nick J. Bruno, who met with AT&T representatives two years ago about the potential contribution, discussed the importance of scholarships like this for the recruitment and retention of students and ultimately for the economy. 
"We recruit the better-prepared students, we challenge them when they are here, and then they move on to take their place and become the economic drivers of the future," Bruno said.
David Aubrey, State Director of External Affairs for AT&T, remarked that although AT&T represents one of the largest companies in corporate America, it is part of their fabric to give back to the community.
"We continue to reach out to outstanding organizations like the University of Louisiana Monroe and we believe that we can be a great partner to build a stronger workforce," said Aubrey. "We love our students in the state of Louisiana and we would like for you to stay here and be a part of our growing economy that's going to take place. So, on behalf of our state president Sonia Perez and all of our members of our team, we are very proud to be a partner. We're very proud to know that our contribution made a difference in your lives. And you make it very hard for me to leave here and not come back again with something bigger in my hand."