Published February 3, 2017
MONROE, La. — The Louisiana Cancer Foundation (LCF) presented ULM College of Pharmacy Professor Dr. Paul Sylvester with a check for $10,000 in continued support of his breast cancer research on Jan. 26.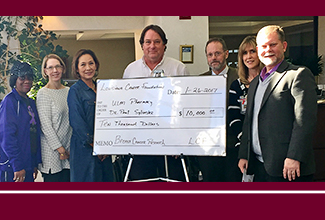 Sylvester has received funding from the LCF to support his cancer research for more than a decade, for a combined total of $107,500.
"Once again, I am honored and humbled by the generosity of the Louisiana Cancer Foundation and their continued support of our breast cancer research conducted in the ULM School of Pharmacy," said Sylvester. "Gifts such as this are extremely important in maintaining our efforts and progress, and provide a means by which we can obtain important equipment and supplies required to advance our studies. I recently had the opportunity to meet and talk with the Foundation Board members and they are an extraordinary group of people that I cannot thank enough for everything they do in the fight against cancer and support of cancer patient care in our community." 
Sylvester, the Pfizer Endowed Professor of Pharmacology and ULM Director of Graduate Studies and Research, has taught at ULM for over 18 years. He has spent many years researching the relationship between nutrition and breast cancer growth and development, and the effects of tocotrienols—a rare form of Vitamin E that displays potent anticancer activity. 
In November of 2016, he was named the recipient of a $600,000 estate gift from Mildred Maurer, a breast cancer survivor who had developed a keen interest in the breast cancer research of Dr. Paul Sylvester before her passing. 
About the Louisiana Cancer Foundation
The Louisiana Cancer Foundation was founded in 1999 by the Northeast Louisiana Cancer Institute for the purpose of increasing public awareness, early detection, treatment, and research for cancer in the state.
The LCF is a 501C3 organization, which receives funding through personal donations, grants, and fund raising by the Cancer Foundation League.
For more information about the LCF, visit lacancerfoundation.org.