"This is an incredibly great time to be on the campus of ULM and it is an incredibly great time to be involved and invested at ULM," said Susan Hoffmann, President of the University of Louisiana Monroe's Foundation Board of Trustees. 
Hoffmann made remarks at a groundbreaking ceremony Friday for the new Foundation and Alumni Affairs center at 4400 Bon Aire Dr.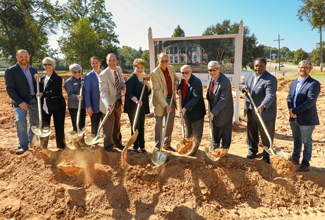 "The growth and the construction has been over the last 15 years focused on the west side of the bayou," said ULM President, Nick J. Bruno. "Now, it's time to turn our attention to the east side of the bayou, to complete our campus footprint, to continue to provide more services for our students, our faculty, staff and alums, and this facility here will certainly do that."
Three years ago, the ULM Foundation started the initiative for a major renovation of recently demolished Anna Gray Noe Alumni Center on Bayou DeSiard where the new facility will be built. However, the estimated costs to renovate the 1974 structure to meet building codes and needed functionality exceeded the cost of new construction. 
"I can tell you that we spent many hours and many, many weeks reviewing, discussing, looking at cost," said Hoffmann. "And ultimately, the conclusion was: the cost to tear the old building down and construct a new building was much more cost-effective."
A fundraising campaign to build a new facility at an estimated cost of $1.5 million was launched to secure the financing through private donations and naming opportunities. 
"Since we started fundraising for this project late last year in November, we've had over 250 donors make contributions for this facility," said James Moore, ULM Foundation Board of Trustee member.  "As of today, we have $1.1 million dollars committed to this facility. " 
The new facility will house the ULM Foundation and Alumni Affairs staff. Expected to open in the summer of 2018, the two-story building will be approximately 9,500 square feet with 6,748 square feet heated. 
The contractor for the design-build project is Blue Heron Homes, L.L.C. and the architectural firm is Catalyst Design, L.L.C.
Financing for the new facility is through private donations and naming opportunities.
"We still have some additional money that needs to be raised, and we would ask everyone to consider that," said Hoffmann. 
For each gift of at least $1,000, a brick will be placed with inscription selected by the donor.
To make a gift to the project, either mail a check payable to the ULM Foundation to 3601 DeSiard St., Monroe, LA 71203 or go online to ulm.edu/4400bonaireproject .
Published Oct. 16, 2017