The College of Arts, Education, and Sciences at the University of Louisiana Monroe in collaboration with International Student Services is hosting the Fall 2017 Art Crawl at several campus locations from 5-7 p.m. on Thursday, Oct.12.
Admission is free and the public is invited. Light refreshments will be served.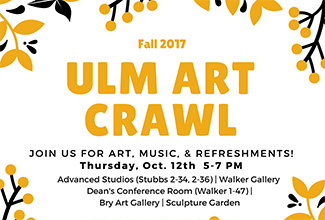 Participating venues include the Walker Gallery, CAES Dean's Conference Room, Bry Art Gallery, ULM Sculpture Garden, and Advanced Studios in Stubbs 234 and 236.
A showcase of works by ULM students, faculty, staff and alumni will be on display. Some of them will be for sale.
In Walker Gallery will be student paintings, pottery, sculpture, prints, and photographs. Bry Gallery will display the work of Joshua Chambers with "Laughter is A Risk and Other Struggles We Choose for Ourselves." 
Want to go?
WHAT: Fall 2017 Art Crawl
WHEN: 5-7 p.m. Thursday, Oct. 12
WHERE: ULM galleries and studios
COST: Free admission; many pieces for sale
INFO: Dr. Joni Noble, 342-1383 or Dr. Jeff Anderson, 342-1243
The dean's conference room will exhibit photographs from around the world from students and faculty. 
Various student musicians from VAPA will perform during the crawl.
"Art is one of the things universities are all about. Painting, sculpture, photography, music and the like add quality to life in a way that simple job training does not," said Dr. Jeff Anderson, Interim Associate Dean in the College or Arts, Education, and Sciences.
Dr. Joni Henry Noble, a professor in ULM's School of Visual and Performing Arts, believes it is great opportunity for the public to acquire unique pieces while helping students.
"The Walker Gallery provides a prominent space for the art program to show their work and to sell it. The art at Walker Gallery is modestly priced, so that most people can afford to purchase an original work of art," Noble said.
"The photographs that will be displayed in the dean's conference room exhibit are absolutely superb. These images transport you to magic corners of the world, imprinting the viewer with a sense of wonder and hunger for exploration," said Arely Castillo, Director of International Student Services.
Art students under Vitus Shell collaborated with histology students under Dr. Allison Wiedemeier to create several paintings in the crawl. A grant secured by Wiedemeier allowed science students to work with art students to experience and create public art. These works can be viewed in the Bry Gallery hallway.
For more information contact Dr. Joni Noble at noble@ulm.edu or 342-1383 or Dr. Jeff Anderson at jeanderson@ulm.edu or 342-1243.
Oct. 10, 2017