Associate Professor Brooke Foye a proponent of public art
Thanks to a $20,000 Creative Placemaking grant through the Delta Regional Authority, West Monroe can launch a new public art project.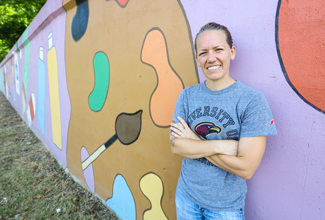 On Wednesday, the DRA, in partnership with leading national arts and government organizations, announced it will invest $309,000 in the arts and culture in the Delta. West Monroe received one of only 16 grants.
University of Louisiana at Monroe assistant professor Brooke Foy is no stranger to public art in West Monroe (or Monroe). Many times she's been seen standing on scaffolding repainting faded historical signs on the sides of downtown buildings or painting the West Monroe seawall.
It was Foy who spearheaded the grant campaign, collaborating with ULM's Office of Sponsored Programs and Research, the city of West Monroe and the West Monroe-West Ouachita Chamber of Commerce. 
"We are delighted to receive support from the DRA to foster more Creative Placemaking in our community," Foy said. "This project will allow us to bring some amazing creative minds together to pursue a common goal of beautification through the arts. Our community will grow stronger and more beautiful through this opportunity. None of this would be possible without the help of DRA and our partners."
The grant will be used by West Monroe in partnership with the Downtown Arts Alliance, "to focus on a public art project to reinvigorate the arts and cultural sectors within the community, while also implementing programs to encourage long-term sustainability and community engagement," according to the DRA. In total, the project will cost $79,000.
OSPR Director of Research John Sutherlin, who works closely with the DRA, said, "To be one of the few Creative Placemaking grants awarded in the country is a major accomplishment by all those involved. ULM is fortunate to have great faculty looking to make our community better."
The Creative Placemaking initiative provides seed investments to stimulate economic and community development efforts across the Mississippi River Delta region and Alabama Black Belt. The DRA seed investments and public and private partners brings nearly $1.6 million in total investment to the eight states. 
For more information, visit www.dra.gov/creativeplacemaking
Oct. 13, 2013