Published February 19, 2018
Amy Robinson embraces change. She recognized quickly after her son was born that her professional priorities had changed. She is not afraid of transition, much like the university that helped mold her. Majoring in Mass Communication, Amy attended NLU turned ULM from 1998-2003, a time of change for the institution. Everything from the name to the mascot was evolving, and Amy witnessed that transition and the effect on the students firsthand. Amy graduated from Ouachita High School, and decided to attend college in her hometown, fully immersing herself in the experience.  From being captain of the coed cheerleading squad to a member of the Kappa Delta Council, to SGA, to a maid on the Homecoming Court, Amy learned to adapt to the changes taking place around her.
As a cheerleader, Amy developed self-discipline and learned the importance of professionalism being a representative of the university.  The cheerleading team was made up of people from across the country, and forming friendships with those individuals are among Amy's most treasured memories. This opportunity allowed Amy to learn about diverse backgrounds. She considers that exposure a privilege and encourages students to get involved in organizations outside of class. Amy recognizes ULM as a "diverse little melting pot right in our own backyard."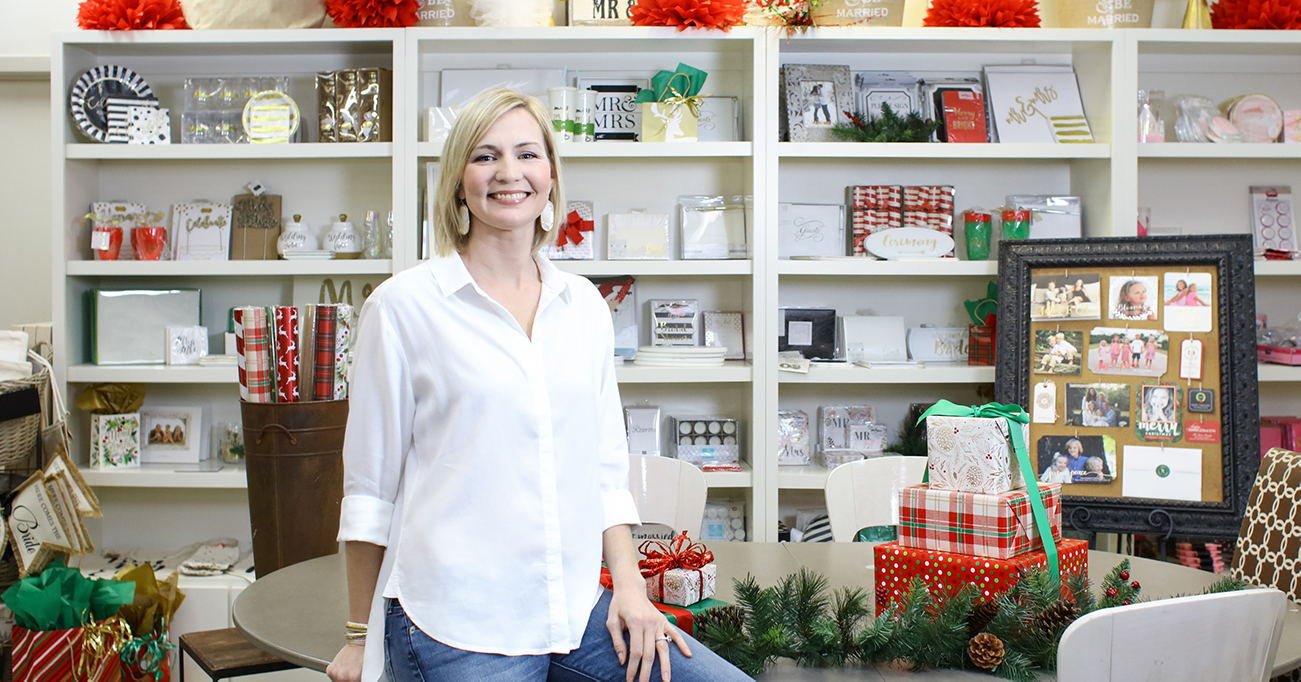 Kappa Delta taught Amy to "strive for excellence." The philanthropic and leadership aspects encouraged her to be part of a "bigger mission." The sorority is also where Amy met many of her lifelong friends, who supported each other while "navigating the social, and academic struggles of college."
She found mentors along the way that stand out long after Amy has left their classrooms. In undergrad, Dr. H. P. Jones was the engaging history teacher who also taught her mother. Dr. Bette Kaufman showed her what caring for students meant after an internship position didn't quite fit. In graduate school, while also working at ULM, Dr. Lesli Pace forced Amy to "see outside her bubble." Dr. Catherine Wilson served as Amy's advisor while she was getting her Master's. Her bosses Lisa Miller and Susan Duggins encouraged and supported Amy while she juggled school, career, and motherhood.
Working as an event planner in Recruitment and Admissions at ULM and then as the freshman orientation (PREP) coordinator, Amy learned to handle events and marketing. Lisa Miller was the boss who showed her how to be a leader and to not doubt her capabilities. It was with this assurance that she made the big career shift in 2011. Her son Grant was about to be one, and Amy realized she wanted to be her own boss. She saw untapped potential in her then favorite store, so she bought The Paper Market and made it her own. While she admits the flexibility of being a business owner is all worth it, it doesn't mean at times it isn't scary. She can't just run to Lisa in a crisis and ask what to do. Amy now must make those decisions.
Customers frequently tell Amy, "Your store makes me happy." Every person who comes through those doors is celebrating something. She hires part-time workers, many of them ULM students, and she can groom them until they graduate. It's a way she gives back to the institution that helped groom her. She is also free to serve on committees for ULM like The Pursuit and the L-Club Board. Amy insists, "I love this university. It is a big part of my life story. It is one of the largest drivers of our local economy, and as a business owner and resident of Monroe, I am dependent on the success of ULM and will do whatever I can to support it."
Paper Market, like most businesses, wouldn't be possible without support. Amy has core group of employees who are the backbone of the store. They're the first faces customers see when they come in the door. Her twin sister Ashley, also a ULM graduate, is a Marketing and Public Relations consultant, advising her sister on marketing and social media strategies. Amy's husband Brian handles the financial side of the business while her brother Joey serves as her inventory manager, handling the day to day orders. Paper Market wouldn't be a success without all of them.
While Amy has had a lot of encouragement from people along the way, her parents' faith in her and constant support are the main reasons she is not afraid of failure. Michelle and Pete Dougherty taught her to believe in herself. She is always encouraged to do what she wants to do by the people who matter most, and she isn't afraid to change course. She thrives on operating a local business that gives back to her community. Amy considers it a privilege to have been raised in Monroe, to have gone to school here, and now built a life here for her family.