Green space planned for corner of Northeast Drive and University Avenue.
Published June 21, 2018
At the corner of Northeast Drive and University Avenue at the University of Louisiana Monroe, Garrett Hall is being torn down. This week, heavy equipment has made quick work of taking apart the building where biology and geology were once taught. Director of Facilities Michael Davis said everything salvageable was removed from the building.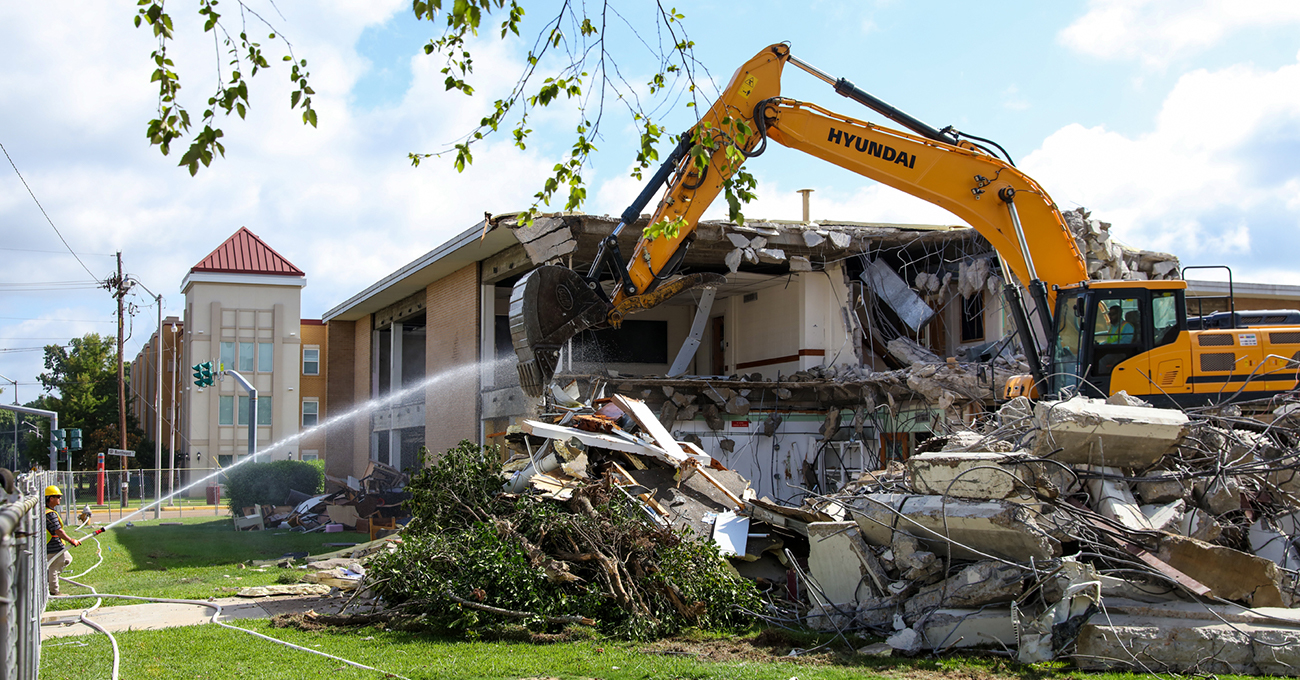 INTERVENTION ZONES
The ULM Master Plan (www.ulm.edu/masterplan/ ) identifies intervention zones for proposed improvements, and Northeast Drive Gateway and Garrett Plaza is one of those zones. The other intervention zones are Campus Mall and Lawn, University Avenue Gateway, Bayou Park, Athletic Campus Gateway, Stadium Park and Alumni Park.

Northeast Drive and University Avenue are key entrance points to the university. The Master Plan calls for enhancements to the area, which includes the demolition of Garrett Hall. The Master Plan states: "The proposal creates a new 'front' door corner plaza on the Garrett site, supporting the ongoing reconfiguration of Sandel Hall as a central orientation point and student services facility."
A GREEN SPACE
Davis said once the debris is removed, the corner will become a green space. At first it will be planted with grass, with landscaping to come later. An architectural rendering in the Master Plan shows the corner space with paths, a fountain and planted with grass and trees. 
HISTORY
Construction on Garrett Hall began in 1961 and was completed in 1962. George T. Walker was president of the university and Jimmie Davis was governor of Louisiana.

Garrett Hall was named for Franklin Garrett (1840-1896), who was considered the father of the modern parish school system.

Garrett was a member of one of the founding families of Monroe. An attorney, Garrett served on the Monroe City Council and was a member of the Louisiana State Board of Education for the 5th Congressional District. In 1880, he was tasked with creating public schools in the city. He started the project with $63 in school funds. In 1888 Garrett retired from managing the school system and left a balance of $6,000 in the school account.

Although Garrett Hall no longer stands, Franklin Garrett's dedication to learning goes on as ULM continues to grow and thrive.