Published November 28, 2018
By ULM Marketing and Communication
The University of Louisiana Monroe's UAS Management (Unmanned Aerial Systems aka drone) program has achieved a milestone: UAS major Stephanie Robinson is the program's first FAA (Federal Aviation Administration) licensed female drone pilot. Robinson mastered the demands of this innovative and unique program and passed the FAA small UAS pilot knowledge exam with flying colors.
This exam is like any other FAA pilot knowledge exam in that it is conducted under strict time controls and under video surveillance until completion of the exam. The FAA requires this certification for people to commercially utilize drones.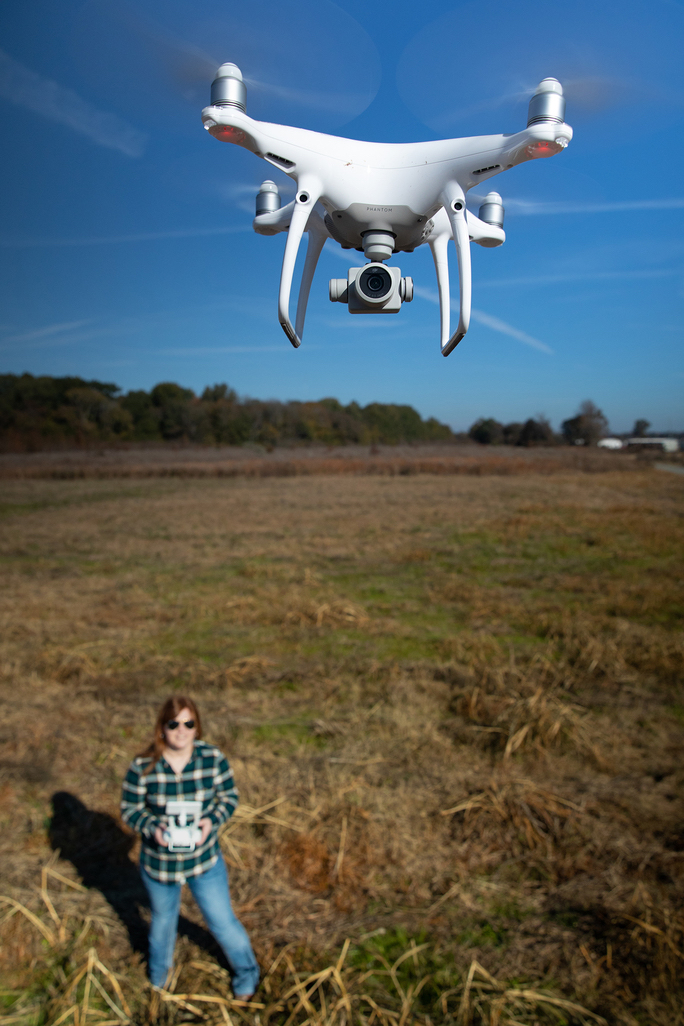 Robinson, 21, is a junior from Start. She has been actively engaged in ULM's drone management program while she is pursuing her goal of becoming a manned aircraft pilot. She is one of only two students who are qualified and allowed to legally fly drones that are part of ULM's fleet.
"I hope to get a job working with drones whenever I graduate," Robinson said. "Possibly working with agriculture or environmental assessments."
The program is working in collaboration with external partners to incorporate drones into environmental assessments, as well as other applications.
According to Dr. Paul Karlowitz, Associate Professor of Aviation and Director of UAS Operations, "Stephanie is one of the most active students in supporting ULM's drone program. She is an exceptional student who has devoted lots of time to becoming licensed and growing our program. We are very happy that she is the first ULM female student to earn this FAA designation."
The UAS program is looking at additional ways to get other talented students more involved in the UAS program, including increased drone flying times with a variety of drones and various sensors. This increased flight experience and hands-on technical support of drones and drone fleet management is invaluable to the legal and ethical applications of drone technology.
For Robinson, it all leads toward her dream job.
"My goal in life is to become a pilot for UPS," she said.