Published Dec. 7, 2018
There is a very special place at the University of Louisiana Monroe. It's colorful, and bright, and filled with voices. It's the Occupational Therapy Center in Caldwell Hall. The center, under the direction of Dr. Patti Calk, is making life better by helping adults and children with different challenges.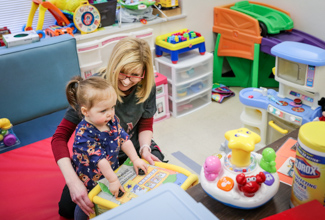 One of the children who goes there is Aubrey James Hendrix. Her mother, Sarah Hendrix, shares their story:

"Being a first-time parent is scary. Being a first-time parent with a child with unknown physical delays is even scarier. When our beautiful baby girl, Aubrey James, was born, everything seemed fine. However, we would quickly learn she has several holes in her heart, one of which is close to her aortic valve.My husband and I were informed we would need to see a pediatric cardiologist.  
After spending five days in the hospital to monitor Aubrey James' oxygen level, we were relieved to be sent home. Once home, it became evident Aubrey James was having trouble eating. In the midst of her health issues, our physician suggested occupational therapy for Aubrey James as she was not exhibiting the tone that a typical baby her age should. Our initial thought was, absolutely not. Our baby did not need this. However, we wanted the best for our little girl so we agreed.  
It was after a several-days stay in the hospital that our difficult journey would take an amazing turn for the better. An extraordinary angel named Dr. Patti Calk at the University of Louisiana Monroe called my phone. She had been referred to us by one of our wonderful doctors. Dr. Calk said she would be more than happy to help us with occupational therapy as well as feeding therapy.  
Nervously, I met with her the following week for an assessment of Aubrey James. My nerves quickly dissipated as I could feel Dr. Calk's positivity and care radiating from her. This new adventure would be an incredible gift. Dr. Calk eased my worry and restored hope for us.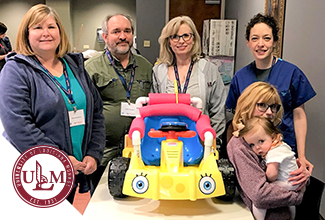 We have been attending occupational therapy for over a year and a half. Aubrey James has flourished. While her unknown physical delays will probably never be explained, it really doesn't matter. The amazing ULM Occupational Therapy team showed us how to cope with difficulties and find another way to succeed.  

We are so incredibly blessed. Dr. Patti Calk, Donna Eichhorn, Dr. Barbara Johnson, Dr. Carolyn Murphy, Dr. Emily Mike, Loretta Sims, the OT students and the entire OT department have been an integral part of Aubrey James' success, and we will be forever grateful.  

The OT staff is an extraordinary asset for ULM.  We now know how important it is for a child to receive occupational therapy when he or she is showing a delay... and we are most certainly receiving the absolute BEST care for our daughter through ULM OT. "  

ULM Proud,
Sarah Hendrix

The Occupational Therapy program will offer a Doctor of Occupational Therapy beginning in 2021. 

For those interested in learning more about the ULM Occupational Therapy program, call 318-342-1610 or visit ulm.edu/ot/.