Published Nov. 1, 2018
Over her lifetime Kitty DeGree, one of Northeast Louisiana's most generous philanthropists with donations exceeding $9 million at the time of her death in 2012, distinguished herself as the University of Louisiana Monroe's largest donor. 
Her gifts span the university's affiliate organizations: the ULM Foundation, the ULM Alumni Association, and the ULM Athletic Foundation. She literally supported every aspect of the university's mission of providing the highest level of academic excellence and life leadership skills to its students. Her donations represent giving from annual renewable gifts to major capital and planned estate gifts.

One of her last major gifts before her death was a $1 million donation. Honoring that gift, the university named one of its premier schools, the Kitty DeGree School of Nursing. Although she died before the formal naming, the university presented her with an architectural drawing which remained on an easel in her home. 

Cindy Rogers, President of the Kitty DeGree Foundation, often remarked of the special joy that rendering brought her. 

"Kitty believed in this university. She understood the value it brings to this community and the opportunity it affords many and although her generosity served many organizations this school remained a priority for her throughout her lifetime," Rogers said. 

Rogers said, "Community benefit of her resources was important to Kitty and the development of the Kitty DeGree Foundation was her assurance that the community support she loved would perpetuate beyond her lifetime."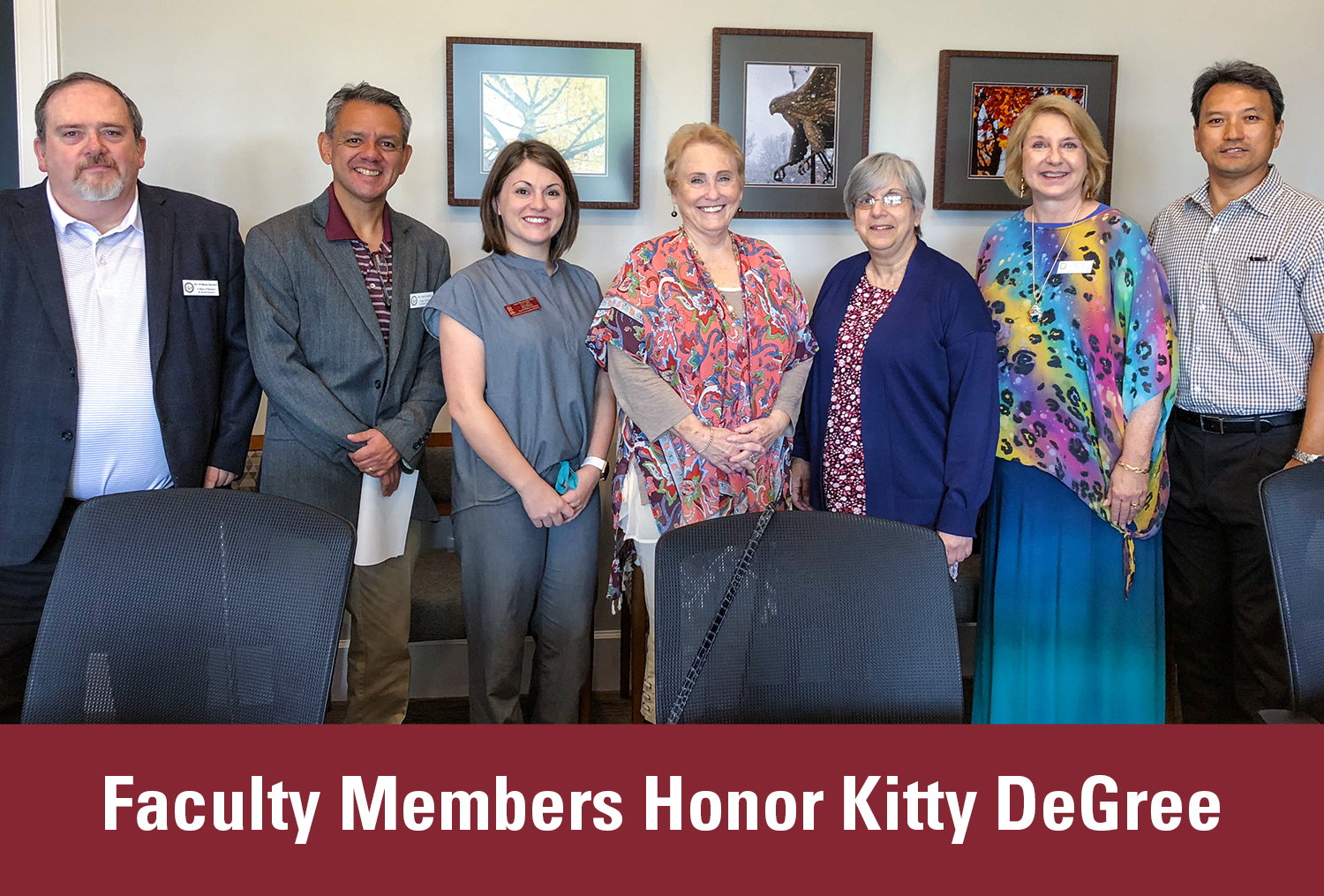 FACULTY SHARES STORIES
DeGree's high regard for ULM's excellent faculty is evidenced through her establishment of a $1 million Eminent Scholars Chair and five $100,000 Endowed Professorships.

Recently Rogers had the opportunity to visit with the endowed chair and professorships holders over a lunch to talk about Kitty, her lifetime of philanthropy and her interest and devotion to ULM.   

Faculty present were Dr. Susan Lacy, Kitty DeGree Chair in Nursing, Dr. William Barnett, Kitty DeGree Professorship in Computer Science, Dr. Jose Cordova, Kitty DeGree Professorship in Computer Information Systems, Dr. Kioh Kim, Kitty DeGree Professorship in Education, Dr. Anne Marie Sisk, Kitty DeGree Professorship in Speech and Hearing Clinic, and Dr. Ann Findley, Kitty DeGree Professorship in Biology.

Faculty individually talked about their role as holders of the endowed chair and professorships and shared the value-added benefits of this special funding. They discussed opportunities from research to student recruitment they would not have accomplished without this funding. 

Rogers thanked each for sharing their stories and how much it meant to witness firsthand the continued stewardship of this legacy. 

"Kitty was often referred to as a Louisiana treasure, a title well deserved, and I thank each of you for your creativity in maximizing her gifts. She would be both honored and happy to know the good work you continue in her name," Rogers said. 

ULM GIVES DEGREE HONORARY DOCTORATE
Her exceptional gifts included endowed scholarships, a charitable gift annuity, and a charitable remainder unitrust, all of which benefit students for generations to come.  

Kitty's generous capital gifts include: The Kitty DeGree Computer Center, the Kitty DeGree Pharmacy Student Resource Center/Library; and the Kitty DeGree Speech and Hearing Center. She funded the refurbishment of the University House, which has accommodated dignitaries from all over the world.  She provided the funding for the focal part of the University Library and Conference Center, which is the front tower which houses the massive clock and bells whose majestic chimes are heard campus-wide.    

In May 1989, the University conferred an Honorary Doctor of Laws degree to DeGree. She also received the inaugural Hall of Distinction Award in 2004, which is the University's most prestigious award that recognizes those who have honored ULM through a lifetime of distinction and exemplary service to, support for, or promotion of the University.  

Also befitting her exceptional generosity, the ULM Foundation Board of Trustees voted to name the University's major gifts recognition society, the Kitty DeGree Bell Tower Society.  Membership in the Society is based upon the donor's lifetime giving to the University and begins at the $50,000 level.
For more information, contact Susan Chappell, Executive Director of the ULM Foundation and Alumni Relations, direct: 342-5424; mobile: 376-0290; and chappell@ulm.edu.