ULM's International Week March 26-30 on campus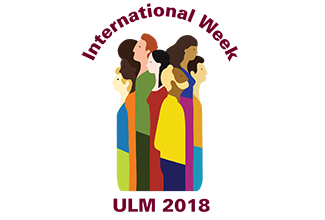 International Student Services is hosting its International Week from Monday, March 26 through Friday, March 30. This special week is marked to celebrate the diverse cultures and nationalities represented on ULM's campus.
 
"We are very excited about this year's activities. Our international students are thrilled to share their food, music and experiences with their ULM family and with other the members of the community," said Arely Castillo, Director of International Student Services.
All of the activities are free except the Food Festival and the International Student Gala. The gala is free for current ULM international students, $10 for ULM domestic students, and $15 for the general public.
Tickets can be picked up at the International Student Services office, suite 200 in Sandel Hall.
"I encourage everyone to participate in the many activities we have prepared and to make new friends with our lovely international students," Castillo said.
 
One of the most anticipated events of the week is the International Food Festival. This event provides guests the opportunity to sample foods from all across the globe, priced from 50 cents to $2 per item.
Kaile Finies, ULM graphic design student and president of the African Caribbean Association, shared her excitement, "The food festival is my favorite international event on campus because what better way to showcase different cultures than through food!"
SCHEDULE
Monday, March 26
Flag Parade
Time: 10:30 a.m.
Location: Coliseum to Scott Plaza 
Henna, Face paint, Braid, Language table
Time: 11 a.m.-1 p.m.
Location: Scott Plaza 
Game Night
Time: 6-9 p.m.
Location: Liew International House 
Tuesday, March 27
Rock Painting & Henna
Time: 11 a.m.-1 p.m.
Scott Plaza 
Holi, Festival of Color
Time: 4-5 p.m.
Location: Bayou Park 
Wednesday, March 28
Food Festival
Time: 11 a.m.-1 p.m.
Location: SUB Ballrooms 
International Zumba
Time: 6:20-7:20 p.m.
Location: Activity Center 
Scavenger Hunt
Time: 7:30-8:30 p.m.
Location: Liew International House 
Thursday, March 29
International Student Gala
Time: 6:30-9 p.m.
Location: SUB Ballroom 
For more information, contact Arely Castillo at 
castillo@ulm.edu
 or 318-342-1295
Published March 23, 2018