Published October 24, 2018
The number is staggering, 100 million U.S. adults are diabetic or prediabetic according to a June 2017 report by the Centers for Disease Control. In Louisiana the latest number by the American Diabetes Association is 575,000 adults with diabetes.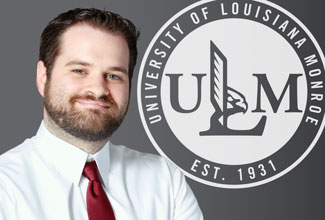 A researcher at the University of Louisiana Monroe is working to lower this number. Dr. Matthew Talbert, ULM Associate Professor of Biology, has received a $352,500 grant to support his research into the obesity-diabetes connection. The grant is from the National Institute of Diabetes and Digestive Kidney Diseases.
Talbert and his team are using fruit flies as the test subjects. The Drosphila melanogaster is a fruit fly that exhibits functions much like humans, especially in handling incoming nutrition. According to earlier work by Talbert, " ... flies can become insulin resistant as part of an obesity and type-2 diabetes state.
"In addition to insulin resistance, these 'obese' and high fat diet-fed fruit flies have shown a large reduction in lifespan in the laboratory, cardiac dysfunction and many indicators of neurological decline," he wrote.
Talbert states, "... a key question for those of us that are trying to find ways to improve therapies for obese and diabetic humans is this: what are the molecular pathways and genes involved in causing the onset of insulin resistance in body tissues? Not all obese individuals become diabetic or ever become seriously ill ... If we can understand these pathways to disease in obese and diabetic patients, we can focus mammalian model research and drug development, and our research hopes to do that."
"Dr. Talbert's research on obesity and genetics is fascinating and, given the recently-released statistics on the percentage of Louisianians who are overweight, certainly relevant to our society," said Dr. Eric Pani, Vice President of Academic Affairs. "He is one of ULM's successful up-coming faculty members and has helped advanced the research culture here. I congratulate him on this award and know that even better things are in the future."
Talbert said the funding would not have been possible without the work of his student researchers and he's looking forward to working with students thanks to the new grant.
"I think it is important to note that this will support a project that will enhance our research environment and provide an amazing mentoring opportunity for our students," he said.
"As someone who joined the faculty at ULM primarily because I saw an unrivaled opportunity to be a mentor, I am therefore honored and very thankful for this federal funding," Talbert said. "These types of research efforts and all the benefits that can be derived from them are not attainable without it."
Research reported in this publication was supported by the National Institute of Diabetes and Digestive And Kidney Diseases of the National Institutes of Health under Award Number R15DK118515. The content is solely the responsibility of of the authors and does not necessarily represent the official views of the National Institutes of Health.