Published Oct. 9, 2019
Life, like paint on an artist's palette, is made of layers that bind and blend to create a mosaic of colored experiences. In this story, the layers are of time – time that was and the time that is.
PHOTO:
 Stephanie Cogburn, Caitlin Lewis and Annie Luttrell, students in the ULM School of Visual and Performing Arts art program, 
volunteered to teach art classes at the Northeast Louisiana War Veterans Home in the summer. The positive reception from the veterans led the trio to continue the classes through the fall
. Courtesy photo
Three young women who are artists and students at the University of Louisiana Monroe are creating new layers in the lives of elderly men whose pasts cling like ghosts to their fading memories. The young women have never known war, the men are bound by it. 
In the summer, Stephanie Cogburn, Caitlin Lewis and Annie Luttrell started sharing their skills and talents by volunteering to teach art classes at the Northeast Louisiana War Veterans Home.
Joni Noble, Ph.D., a professor of art in the School of Visual and Performing Arts, is faculty adviser to these students. Her connection with the veterans home is what led to the classes.

"My dad was living at the veterans home this year, and I was asked by the administration there if the ULM art program could do anything to help out. I mentioned the opportunity to a couple of students and Stephanie, Caitlin and Annie immediately volunteered. I am so proud of them and their hearts for service," Noble said.
For Lewis, a senior painting major from Monroe, it was not her first time volunteering at the veterans home.
"It was in high school when I discovered a love for giving back to our community. I volunteered at the VA for several summers and had been looking for a reason to get involved again. I jumped at the chance to be a part of this. I'm so glad I did," Lewis said. "I hope this special partnership between the VA and the ULM art program continues to flourish and carry on for years to come. These men and women are some of the sweetest souls I've come into contact with and deserve the utmost gratitude. I'm beyond blessed to have been a part of this amazing experience."
Heather Wyatt, assistant director of recreation at the veterans home, said the art classes "are one of our best activities here. It's a big hit and is going strong."
Ten to 15 residents participate in "Painting with a Snack." Each veteran has a canvas and before starting the students give an overview of what they will be working on that day. It could be technique, style or interpretation. For October, the subject is pumpkins.
When the paintings are complete, the canvases are hung in the veterans' rooms or given to their families.
"They are so proud to give a finished painting to their family," said Wyatt.
Working with the veterans has given Luttrell a greater appreciation of the sacrifices of those who served. The senior in graphic design, from Vidalia, has become especially close to two of the men in the art class.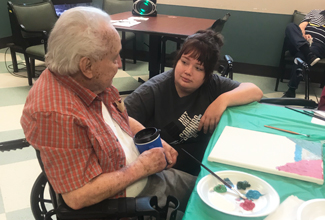 PHOTO:
 Annie Luttrell visits with one of her favorite art students at the Northeast Louisiana War Veterans Home, John Benjamin Humphrey, 99. Luttrell and fellow students in the ULM art program, Stephanie Cogburn and Caitlin Lewis, volunteered in the summer to teach art classes at the veterans home. The response from the veterans was so positive that the classes are continuing through the fall. Courtesy photo
"There is a man named John Benjamin Humphrey (age 99) who told me about his time in the Air Force. He loved flying planes and seeing different counties and cultures. He had many stories to tell. Some of his stories were heartbreaking because of all the men he fought alongside, and also lost," Luttrell said. "Other stories were heartwarming, like meeting his wife and falling in love. John is definitely a man I won't forget."
"Mr. Trapp is another veteran who helped me understand how important art can be. He is so amazing and sweet. Even though he had troubles holding his paintbrush, he still laid on the paint with no regrets or apologies. This is a technique that most artists struggle with, including me," Luttrell said. "This experience gave me more than I thought it would have. I am so happy I have the chance to spend time with them."
Cogburn is from Lafayette and a senior with a double major in art education and painting. She said volunteering with the veterans has been a privilege and provides the opportunity to show her gratitude for their service.
"Several members in my family have served in the military so I have always had a soft spot for veterans. I believe painting is good for the soul, so it is nice to share the experience with the residents," she said. "I enjoy seeing their creativity and what they come up with in their paintings. I also enjoy talking to them and learning a few things about their lives. It is an honor to volunteer at the veterans home, a small way to say 'thank you' for serving our country."
Referring to one of Luttrell's favorite veterans, Ardis Trapp, Wyatt said his talent came as a surprise.
"They brought out something in him we did not know he had. He is a phenomenal artist. His style and technique blew everyone away," Wyatt said.
The soft-spoken Trapp eventually admitted to "taking a few art classes in college." At age 88 he would have been in his early to mid 20s in college – easily more than 60 years ago. That's a long time to remember a college class.
Perhaps that is a takeaway from this story – what we learn in college and what we do with that knowledge, specifically how we share it to better the lives of others, is a layer of color that remains in us and them for a long, long time.
The Best really is on the Bayou.