Published August 15, 2019
Each year the ULM Foundation presents the Awards for Excellence to faculty and staff who have shown outstanding service to the University of Louisiana Monroe and the community.
The five awards were presented following ULM President Nick J. Bruno's State of the University address on Wednesday, Aug. 14, 2019 in Brown Auditorium.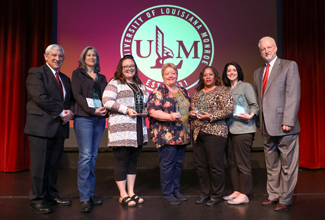 Pictured are, from left, President Nick J. Bruno with award recipients Dr. Jana Giles, Jessica Griggs, Dr. Rhonda Hensley, Sharon Doaty and Dr. Michelle Zagar with ULM Foundation Board of Trustees President Jerry Allen. (Emerald McIntyre/ULM Photo Services)
Career biographies of each recipient were read by Vice President of Academic Affairs Dr. Alberto Ruiz. The awards were presented by Bruno, ULM Foundation Board of Trustees President Jerry Allen and Executive Director of ULM Advancement, Foundation and Alumni Relations Susan Chappell. Awards were presented to three faculty and two staff members.
The recipients include the following:
Award for Excellence in Teaching – Dr. Michelle Zagar, Clinical Associate Professor of Pharmacy in the School of Clinical Sciences for the College of Pharmacy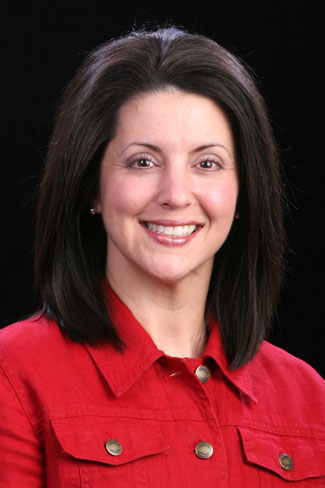 Faculty member Dr. Michelle Zagar joined the ULM College of Pharmacy in 2004 after spending the first eight years of her career in kindergarten and elementary education. Since beginning her ULM career, this individual has made countless contributions to her students, faculty, staff and peers in the pharmaceutical realm.
She graduated from the University of Southwestern Louisiana with a Bachelor's in Elementary Education in 1990 and Master's in Elementary Teaching in 1995. She then went on to obtain her PharmD from ULM in 2003.
She strives to maximize the interactions of her clinical practice students with their learning material, pharmacy practice, as a mentor and motivator, giving them autonomy and promoting confidence. Her goal is to help students achieve success by devising interesting learning experiences to help them grow and challenge themselves.
Students in her classes are given learning objectives that hold them accountable to a higher standard. This method of early intervention has since been adopted into the College of Pharmacy's Student Success Policy.
She solicits student feedback for her experiential activities, exams, assignments and courses, and implements student suggestions when feasible and appropriate.
Zagar has also served on 25 different committees, subcommittees and task forces directly related to teaching and learning. She served nine years on the College of Pharmacy's Curriculum Committee developing new, integrated modular designs.
She has received nine teaching awards and honors, currently coordinates and instructs eight courses, published four peer-reviewed manuscripts that have been cited 39 times, and has given over 30 continuing education presentations.
It is no surprise the recommendation letters for described Zagar as one of the most exceptional teachers in the College of Pharmacy. She encourages and facilitates the transition from the mindset of a student to that of an independent pharmacy practitioner.
Along with her excellent reputation with students is her outstanding reputation among colleagues. This award-winner's willingness to share personal experiences and expertise at the college, university and national level is telling of her exemplary character as an educator.
Zagar considers herself a teacher who happens to be a pharmacist.
Award for Excellence in Research – Dr. Jana Giles, Associate Professor and Endowed Professor in English Literature in the School of Humanities for the College of Arts, Education, and Sciences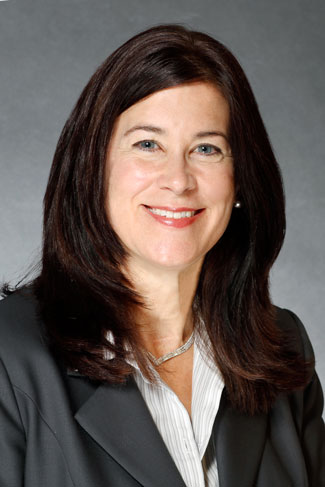 This year, 2019, marks the 10th year of teaching at ULM for Dr. Jana Giles after earning tenure and being named Associate Professor in 2015.
She received a Bachelor of Arts in Liberal Arts from St. John's College in 1988, a Master of Arts in English from the University of New Mexico, and a Ph.D. in English from the University of Cambridge – all the while receiving countless grants, funding and awards for her academic grit.
While at ULM, she has published 231 pages of research, presented 24 conference papers or invited lectures, received many grants of external and internal funding, supervised 64 students in research activity and taught 77 courses.
Most notably, Giles was one of only eight people in Louisiana to receive the ATLAS grant which has a small 12 percent acceptance rate and usually goes to scholars at research-intensive institutions. The grant, given to her in January 2019, provided her with $38,057, enabling her to forgo teaching for a year in pursuit of her book project titled, "The Post/Colonial Sublime: Aesthetics, Politics and Ethics in the Twentieth Century."
As she states, her book has been long in the making and reconsiders what it means to say "sublime," while offering a careful analysis of the ways in which aesthetics may be co-opted by ideology.
Other grants and awards that she has earned have given Giles the opportunity to travel, research and present at national and regional conferences every year. She also serves as the managing editor for the academic journal, Conradiana, where she has opened the door to the publishing world for several graduate and undergraduate junior scholars as they serve as interns.
At ULM, this faculty member teaches four courses a semester, serves on many councils and committees and finds the time for her own scholarly research. She is known to be highly disciplined and determined in order to refine her theoretical approaches while mentoring and teaching students.
In one recommendation letter, it is said that students "appreciate her intellectual energy and her conscientious attention to their work." She is respected among colleagues and her own mentors, as well. These people describe Giles as a superb teacher, a warm and conscientious colleague and a highly-accomplished scholar.
Award for Excellence in Service – Dr. Rhonda Hensley, Professor of Nursing and Associate Director of Graduate Nursing Programs for the Kitty Degree School of Nursing in the College of Health Sciences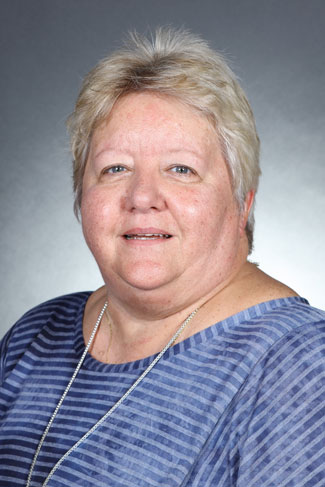 Faculty member Dr. Rhonda Hensley has touched thousands of lives over the course of her 45-year career. She is not only committed to the service of students and patients but also the underserved persons in the community.
She began her career after graduating with a Bachelor of Science in Nursing from the University of Louisiana Monroe in 1973 and earned several other degrees including a Master of Science in Nursing, a Doctor of Education and a Doctor of Nursing Practice.
As a professional objective, Hensley strives to "lead by example in directing graduate students into a career path that not only embraces rigor and evidence-based practice standards; but also incorporates a desire for service to the community for the improvement of health and quality of life." 
Currently working as the Associate Director of Graduate Nursing Programs for ULM, this recipient is a professor in the Kitty DeGree School of Nursing. She is the president of BDR Advanced Education Associates in Continuing Education Services and is a family nurse practitioner part-time at the Winnsboro Medical Clinic.
In 2018, she received the state award for Nurse Practitioner Advocate of the Year.
Hensley also participates in numerous professional and community activities such as serving as the editor-in-chief for the Online Journal of Inter-Professional Health Promotion, collaborating with Ochsner-LSUHSC Monroe to present Stanford Youth Diabetes Coach Training to Richwood High School students, coordinating grant activities for the Mobile Bridge to Health and leading five medical mission trips to underserved communities outside and inside the U.S.
Constantly aware of others and their needs, it is no question that this person is deserving of the Excellence in Service Award.
"Her impact as a mentor inspired me to be very successful in my career as faculty and practitioner," says a colleague in a letter of recommendation for Hensley. "She effortlessly and selflessly commits her time and energy to inspiring greatness in others." 
Hensley is said to have the ability to see potential in others that they might not see themselves. She encourages students to reach greater heights and is tireless in her pursuit for service. Her legendary passion for service continues to shine daily through her work on and off campus.
Award for Service by Unclassified Staff – Jessica Griggs, Student Advocate and Retention Coordinator for ULM Online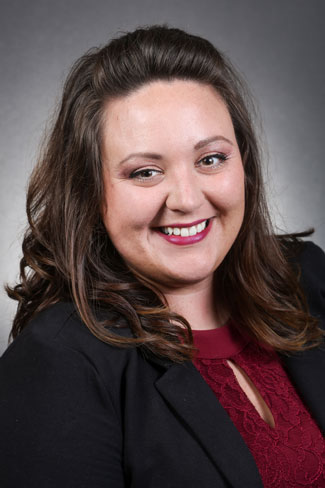 The winner of this award, Jessica Griggs, "will be the last person to tell you how much she gives and will most likely undersell her contributions," says a colleague in a recommendation letter.
She attends to students who are seeking a degree 100 percent online and ensures that they are provided with what is needed to reach their educational goals while enrolled at ULM.
She currently works as the Student Advocate and Retention Coordinator for ULM Online. With her professionalism, care and dedication, Griggs has many responsibilities including, but not limited to, assisting online students with academic advising and career planning, educating potential students on specifics of ULM Online, promoting student success in online courses by providing necessary tools for at-risk students and managing and maintaining social media for ULM Online.
She is described as the students' main cheerleader, mother hen and truth teller.
She is perfect for this job, given her personal experience of being the first person on both sides of her family to graduate high school, earn a bachelor's degree and then a master's degree. Her college experience had many challenges, but she overcame these with grace and determination. She is an example of perseverance to her students.
The hard work of this individual includes serving the community. She spends countless hours coaching/sponsoring a flag cheerleading squad, judging social studies fairs, organizing events and promotions for her church, filling in at church and organizing multiple charitable events.
Griggs is described as having an altruistic spirit, especially for Liberty Grove Church. She helped turn a $1,000 church investment into $12,000 for two vans for the church. 
She has a talent for seeing a need and finding a way to meet it.
Griggs will be the first one to publicize an event, pick up trash or decide the best way she can do her part for her family, her job, her students or her community.
She will not tell anyone she is worthy of being recognized, but her small acts of kindness and service make a big difference for ULM and the community.
Award for Service by Classified Staff – Sharon Doaty, Administrative Coordinator, Marriage and Family Therapy and Counseling Programs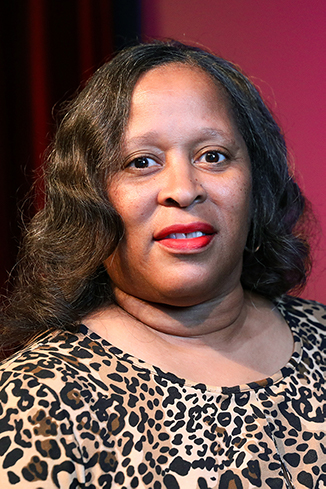 The winner of this award, Sharon Doaty, is someone who is always encouraging, supporting and guiding others while keeping a smile on her face.
She assures that everything runs smoothly and can answer just about any question presented to her.
Doaty's commitment to the Marriage and Family Therapy and Counseling programs in the School of Allied Health in the College of Health Sciences shines through her positive attitude and excellent communication with students, faculty and staff. Per her resume, she quickly became a trusted administrative coordinator known for her "can-do" attitude, flexibility and high-quality work.
She is responsible for communicating effectively with multiple departments to plan meetings and prepare welcome packages, coordinating dozens of recruiting events, managing the office when the supervisor is absent and much more. This resulted in excellent marks on performance reviews and her ability to learn and master new concepts for administrative use.
Many students that come through the Marriage and Family Therapy and Counseling programs have given credit to her for their success. In one instance, a student referred to Doaty as "the glue that holds everything together."
Students have also described her as going above and beyond what is necessary to ensure students succeed. Her position as an administrative coordinator has, as she put it, expanded her gift to help and direct those in need.
Her colleagues and supervisors have also given her praise for the wonderful work she has done saying that she an asset to the Marriage and Family Therapy and Counseling programs and especially to ULM. She makes life easier for these individuals by being selfless and devoted from an administrative and human perspective.
As an employee of ULM for 20 years, she started as an administrative coordinator in the College of Education and Human Development/Curriculum and Instruction. 
As stated in one recommendation letter, Doaty is quick with a laugh and always appears to be cheery even if she doesn't feel like it. She is truly "invaluable."