Published March 26, 2019
Dr. Derle R. Long, Director of the University of Louisiana Monroe School of Visual and Performing Arts, served as conductor/clinician for the Texas Private School Music Educators Association All State Band that met, rehearsed, and performed January 24-26 in Richardson, Texas.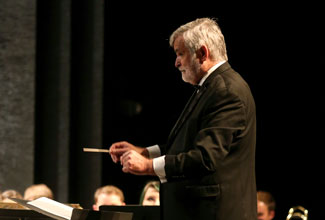 One-hundred and two high school band members from private schools across Texas auditioned to become members of the group.
"I was given the chance to work with some very talented young musicians and we had a great time making wonderful music together," Long said. "I have invited all of the TPSMEA All State Band students to the ULM campus for a visit and to investigate our degrees and programs." 
Following 13 hours of rehearsal over three days, the ensemble presented a concert at the Eisenman Performance Center in Richardson that was met with a standing ovation at its conclusion. This is the first time that Long has served as conductor of the group.