Published April 30, 2019
The University of Louisiana Monroe has received a federal grant of $597,274 from the U.S. Department of Agriculture for the "Expanding pediatric cardiology services with telemedicine and collaborative drug therapy management" project written by Dr. Bryan Donald, a faculty member of the College of Pharmacy.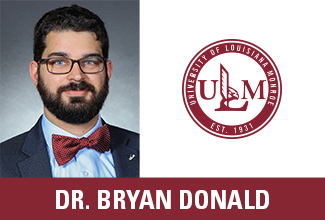 The project, in collaboration with Ochsner Health System and the Northeast Louisiana Economic Alliance, aims to provide affordable pediatric cardiology services via telemedicine to patients throughout the rural areas of Northeast Louisiana. 

Donald stated, "What we're doing is partnering pharmacy with physician specialists to follow our patients better and improve outcomes - pharmacists are trained in drug therapy management, can optimize therapy while reducing adverse drug events, and can take some of the workload from physicians, freeing them to see more patients. We can also use telemedicine, using phones or video, to reach patients where they live and reduce the burden on families trying to get care."
This project is an example of the commitment of ULM's health sciences to serve the community and improve the health and wellbeing of Northeast Louisiana citizens.  

"There is something special about a researcher's first big award," commented Dr. John W. Sutherlin, Director of the Office of Sponsored Programs and Research. "This project was Dr. Donald's first grant submission; therefore, making it a significant accomplishment."
Meghan Risinger, Grants/Projects Developer in OSPR, stated, "Our office is committed to assisting faculty in preparing and submitting grants. Dr. Donald and this project is one example of the extraordinary faculty at ULM and their service to improve the health outcomes and workforce and economic development of Northeast Louisiana."
Dr. Sutherlin continued, "Our office was glad to play a role in developing this project, but it takes committed faculty willing to do the work that makes the difference." 

OSPR's work is not done after a project is funded, it is only the beginning.
Sutherlin added, "Once a professor gets a project or idea funded, our job increases dramatically. Remaining in compliance is our strongest obligation."