Published Oct. 29, 2019
University of Louisiana Monroe President Nick J. Bruno, Jr., Ph.D., expressed deep sorrow over the death of Emily Williamson, longtime director of the University of Louisiana Monroe Child Development Center.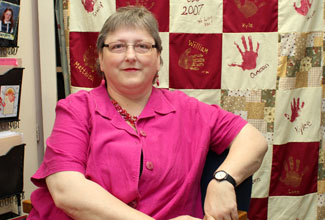 "Emily Williamson was a wonderful person who was truly dedicated to this university," said Bruno. "She deeply loved ULM, especially the children under her care at the Child Development Center. On behalf of the Warhawk Family, we extend condolences to her husband, Robert, and her family. She will be greatly missed."
Williamson, 54, of Monroe, died Sunday, Oct. 27, 2019, after a lengthy illness.
 Arrangements
Visitation is 5-7 p.m., Friday, Nov. 1 at Mulhearn Funeral Home, 2308 Sterlington Road, Monroe. A Celebration of Life Service will be at noon, Saturday, Nov. 2, at Lakeshore Baptist Church, 308 Lakeshore Drive, Monroe.
In lieu of flowers, memorials may be made to Lakeshore Baptist Church, www.mylakeshore.net, Children's Coalition of Northeast Louisiana, www.childrenscoalition.org, or the ULM Child Development Center, by check to the ULM Foundation, 700 University Ave., Monroe, LA, 71209 (please note Emily Williamson Memorial on memo line), foundation@ulm.edu or ulm.edu/foundation.
A lifetime of service
Williamson, M.Ed., NAC, began her career with an interior design degree from ULM in 1988. By May 1991, she earned a Bachelor of Science in Early Childhood Education, followed by a Master of Education in Instructional Technology in 1991, both from ULM. She received her Family and Child Studies +30 from Louisiana Tech in 2009.
She became director of the ULM Child Development Center in 2003 and continued in this role to the present. In 2008, the center gained a 5 Star rating, which it maintains today. Williamson became an instructor for the ULM School of Education in 2010. She was instructor of Family and Consumer Sciences from 2003-10. 
Williamson worked closely with Myra Lovett, director of the School of Education, for many years. 
"Emily's vitality and passion for early childhood education and our Child Development Center will be greatly missed. Her incomparable knowledge, leadership, and tireless work ethic have given ULM's Child Development Center its renowned reputation for excellence respected throughout the community and state," Lovett said.
When the center received its sixth 5 Star rating, Williamson gave much of the credit to her colleagues, saying, "We are very proud of each of our staff members and the hard work that they put in each and every day to maintain and exceed these high standards as we care and educate our Jr. Warhawks who will be 'big' Warhawks one day."
The center was recognized three times by the Southern Early Childhood Association for its outdoor classroom. When interviewed about the honor, Williamson stated, "The outdoor classroom is truly an example of starting with a blank slate and recycling to develop a great learning environment for young children."
Williamson held certifications as a National Child Care Association national administrator, Cecil J. Picard LA 4 Early Childhood Program coordinator and evaluator, Louisiana Pathways State trainer and Louisiana Pathways director.
Williamson was an active member of the Southern Early Childhood Association, Louisiana Early Childhood Association and Delta Kappa Gamma Society International.
In 2015, she was recipient of the Distinguished Service Award by the Twin Cities Mayor's Committee on Disabilities. Other honors include 13 Women Who Shape the Delta (2016), College of Arts, Education, and Sciences Award of Excellence Teaching/Instructor (2015-16) and Ouachita Parish Interfaith Community Service Award (2015).
At ULM, Williamson was co-chair of the commencement committee and served as floor coordinator from 2005 to the present. She served on the Convocation and the Arts, Education, and Sciences Gala Fall committees.
Williamson was devoted to Lakeshore Baptist Church, where she served on the nominating, finance and activities committees, prayer ministry co-chair, Family Promise of Ouachita Homeless Ministry, taught adult Sunday school. She was a member of the Children's Coalition of Northeast Louisiana and Junior League of Monroe Sustainer.