Published February 26, 2019
Gerontology focuses on issues and services that address the needs of older adults. The University of Louisiana Monroe offers a unique graduate program in gerontology housed within the College of Business and Social Sciences.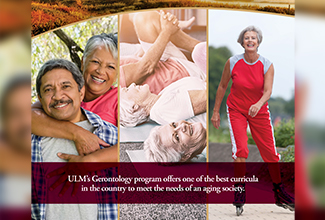 What makes this program so unique? There are several reasons:
1. ULM Gerontology Program is the first and the only graduate gerontology program in the state.
2. ULM is the first and the only university to have established an Institute of Gerontology in Louisiana through funding provided by the National Institute of Aging.
3. It is the only program in the United States that offers seven different concentrations that cover the continuum of health care, business and technology.  The "Health Care Management" concentration combines geriatric training with business management skills.
4. It is the only program in the United States that offers Grief Care Management as a master's concentration. This concentration allows students to prepare for certification in thanatology.
5. In 2018, ULM's Gerontology Graduate Program received three national rankings:  No. 1 Most Affordable Online Master's Program in Gerontology, No. 9 Best Master's Program in Gerontology and No. 14 Best Online Master's program in Gerontology. 
In 2017-18, the Program Coordinator, Dr. Anita Sharma, resurrected and redesigned the Gerontology Graduate Program with support from Dr. Ron Berry, Dean of the College of Business and Social Sciences. Dr. Sharma streamlined the curriculum, added four new concentrations, reinstated a fifth concentration that had previously been removed, and created five new courses to meet the career needs of students.
Currently, the program offers the following seven concentrations: 
(1) Aging Studies; (2) Grief Care Management; (3) Health Care Management; (4) Long-term Care Administration; (5) Mental Health; (6) Program Administration; and (7) Small Business Management.

The program is 100 percent online, which allows students to complete the degree at their own pace. A student-focused program, it continues to grow and expand.  Students receive individual attention and the program coordinator tailors each student's program of study to match their individual career goals.  
The coursework prepares students for the licensing exam in long-term care administration and certification in geriatric care, case management, and thanatology. The program provides plenty of opportunities for internships and field education. As the ULM Gerontology Program continues to gain a reputation for having one of the best curricula, organizations are more eager to offer internship opportunities to ULM students.  
Dean Ron Berry said, "ULM's Gerontology Program has been redesigned to focus on current and future needs of students, our society, and the organizations that serve the aging baby boomer population.  Dr. Sharma has reinvigorated this important program with new concentrations and connected with many great partners in the community to offer timely and relevant workshops and seminars. We are excited about the opportunities provided by the program and look forward to continued growth and success."

For more information about the Gerontology Program, contact Dr. Anita Sharma at asharma@ulm.edu